Scala ecosystem

The elements of Scala ecosystem

The most widely used Scala libraries and frameworks

Not surprisingly, scalatest got first place. It is the de-facto standard for testing in Scala. There are other libraries which try to innovate in this area (munit and zio-test), but still scalatest keeps strong.

The compiler does a lot of checking for us when programming in Scala, but we still like to do our testing in the areas automatically verifiable!

Second place goes to cats, the Swiss army knife for functional programming in Scala. If you have a Scala project, chances are high that you are using cats or cats-effect directly or indirectly, through a dependency.

This might be because you need an abstraction for collections or effects, such as functors or monads, or you might use cats for the data types, such as the always useful `NonEmptyList`.

Last but not least, we've got Circe. As we all know, parsing JSON is the favorite activity of every Scala programmer (probably applies to other languages, as well).

Circe seems to strike a good balance between compile-time generation of encoders/decoders and user friendliness. Other libraries that are popular in that category include play-json and json4s.

In the HTTP domain, Akka HTTP still leads the way, but http4s and Play are close behind. Tapir and endpoints4s provide additional functionality to these servers.

This is complemented by sttp client on the client side. When on the topic of webapps, database access is an always popular theme. Doobie and Slick seem to be the most popular options across the developers who answered our survey.

We shouldn't forget about concurrency libraries, a domain that is especially well handled in Scala. Here, we've got the long-time champion - Akka (along with Akka streams, Akka Cluster and Akka persistence) - the actor library that is one of the authors of Scala success. But we also have alternatives: the already mentioned cats effect with fs2, Monix, scalaz and ZIO.

A very popular entry, which we didn't originally include as an option in our survey is Spark. There are a lot of Spark developers out there who are using Scala, and they shape a large portion of the ecosystem.

Finally, we have some handy everyday tools, which make our lives easier. This includes Monocle, quicklens, chimney or enumeratum.  

Scala is not only a scalable and flexible language, but also an ecosystem that provides you with choice.
We've got mature and popular stacks, either focusing on `Future` as the representation of side-effects, or on "functional", lazy constructs such as `IO` and `Task`.

Whichever of that is better suited for you, your team and your task – libraries to quickly implement the most common functionalities will be there to help you.

The most loved Scala libraries and frameworks

We've got mature and popular stacks, either focusing on `Future` as the representation of side-effects, or on "functional", lazy constructs such as `IO` and `Task`.

Whichever of that is better suited for you, your team and your task – libraries to quickly implement the most common functionalities will be there to help you.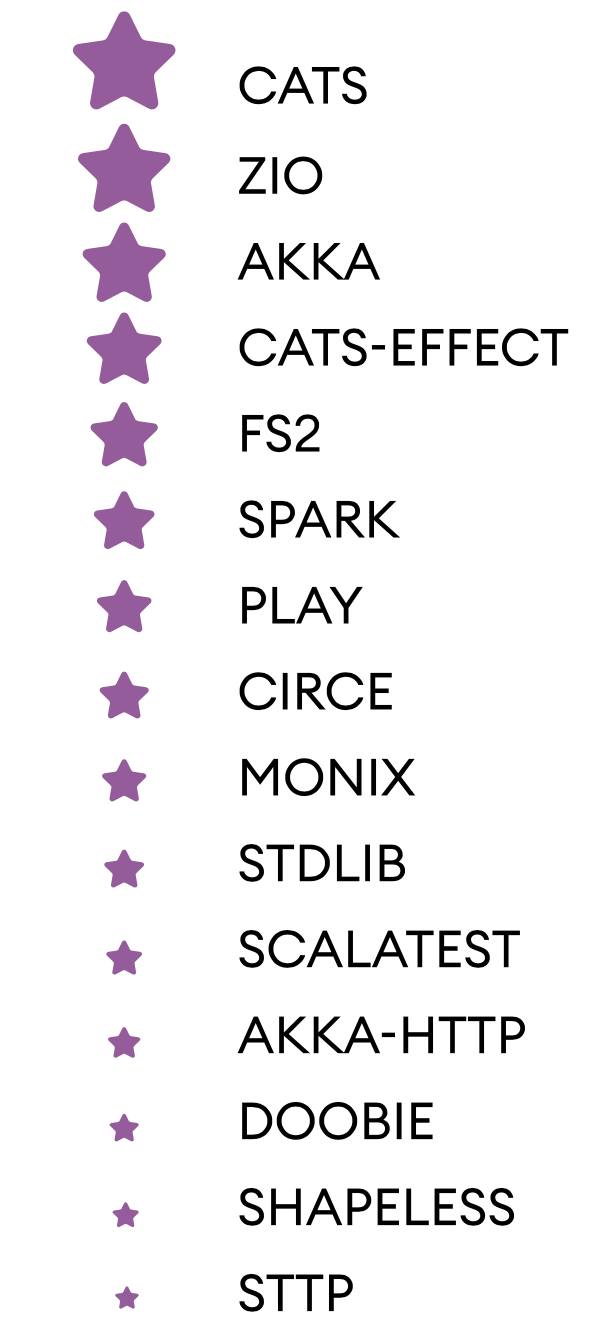 We've got close competition between Cats, Zio, and Akka. These represent the main three stacks that are used across Scala today. Seems like a lot of people are happy with their choice - which can only be a good sign!

But life is not all roses

There are some libraries with which developers struggle. It seems that Akka and Slick are the tools which people love and use, but also at times have a hard time understanding.

When it comes to Akka, maybe there's a niche for an online Akka-centered course or a refreshment of the Akka books available? Akka has evolved a lot throughout the years, and there are significant improvements available, such as typed actors, but because it is not a new library, some of the existing material is outdated.

Read about Akka on SoftwareMill blog.

Another pain point seems to be Slick. As with Akka, the library is both used and liked, but also could potentially use more material on the documentation side. It hasn't seen a lot of development lately, so probably more maintenance work would also be of good service to the community.

Functionalities that are not well covered yet

First of all, the majority of people who answered are happy with their current choice and state of Scala libraries, and didn't mention an area that is not well-covered. Good job, library authors!

It seems that you have satisfied users!That said, there's always room for improvement. When it comes to specific pain points almost none mentioned any specific existing libraries, but rather more general areas, which could be improved. Hence this shouldn't be read as picking on any of the existing work, but rather showing where the next step in making Scala the best platform for application development might lie.

‍WORKING WITH DATABASES
‍The most popular area is very down-to-earth, and corresponds to a problem any developer writing backend or desktop application in Scala faces every day: working with databases. People have mentioned both relational databases, specific implementations (MySQL or PostgreSQL), but equally often NoSQL databases, such as MongoDB and as-a-service offerings by cloud providers. This also includes issues such as schema evolution and migrations, which need to be addressed in almost every application.

‍GRAPHICS AND UI LIBRARIES
‍This might be a surprise, but the second most popular topics are graphics and UI libraries. People have mentioned creating data visualisations, general graphics, 3D graphics, as well as creating graphical user interfaces. The web might be popular, but it seems there's still a large market for traditional applications, with a traditional UI. Indeed, not a lot of libraries seem to be tailored towards solving these problems. Maybe a new niche for functional programming using Scala?

‍MACHINE LEARNING AND DATA SCIENCE
‍The third area is Machine Learning and data science. Scala is a popular choice in this community, due to Spark, but it seems people want more! The topic is quite wide, as it includes both deep learning, through NLP to interactive, explorable data sets. How about a numpy/scipy equivalent for Scala?

‍DOCUMENTATION
‍But libraries solving specific problems are not everything. Many people pointed that better documentation and examples are a much needed addition to the existing, already excellent libraries. An emphasis has been made on working code examples and scaladocs. A great area for new contributors!

‍JSON PARSING
‍The favourite topic of every seasoned Scala programmer: JSON parsing also makes a significant appearance. And not only that: XML, CSV, YAML, scientific data formats and general data serialisation and deserialisation also fall into this category. Some have mentioned general schema libraries for data format compatibility, though is a general solution possible? However, despite a number of developments, this remains a popular pick.

‍FP PURITY
‍Same for web libraries / frameworks, and more generally an integrated set of libraries, forming a coherent development platform. Not as popular as the other ones, but these areas also have significant presence. There have been concrete suggestions, like "Play with FS2", and more general ones, pointing towards pure functional programming. "Spring for Scala" or "SpringBoot-like" set of libraries have also been mentioned, putting an emphasis on interoperability, no boilerplate for writing simple services, and in some cases FP purity.

‍SECURITY AND UNIFIED OBSERVABILITY APPROACH

‍Two related topics are security (with authentication and authorization), together with a unified observability approach, which includes logging, metrics, and tracing. The last functionality has also been mentioned in combination with the integrated development platform we discussed earlier. A cross-cutting concern, which needs to be properly addressed in our community!

Remarks

Surprisingly, hardly anybody mentioned build tools, and tooling also wasn't mentioned often. It seems that these two areas are quite well covered. We asked about libraries, but still got some suggestions on how to improve the Scala compiler, mainly through better error messages.

No mention of compiler performance, but again, that wasn't really in scope of the question.Finally, some other of the more interesting suggestions:
‍
▪️ concurrency: still hard, maybe async/await would make it a bit easier?
▪️ background job managers
▪️ distributed streaming, purely functional clustering
▪️ command-line applications
▪️ Kafka libraries: good Scala APIs covering both normal Kafka consumers as well as Kafka Streams
▪️ Enums, value types - this might be solved with Scala 3
▪️ File I/O

Open Source contributions

How active is open source community around Scala?Half of the respondents stated that they are actively engaged in Open Source projects. This is a very good indication that Scala Community is focused on creating better technology, nicer tools and user-friendly work environments with the spirit of OSS cooperation.

Let's keep up a good work!We also believe in this and are committed to building a "Simple Scala Stack" — a step toward a better Scala ecosystem that could use simpler or better thought-through APIs.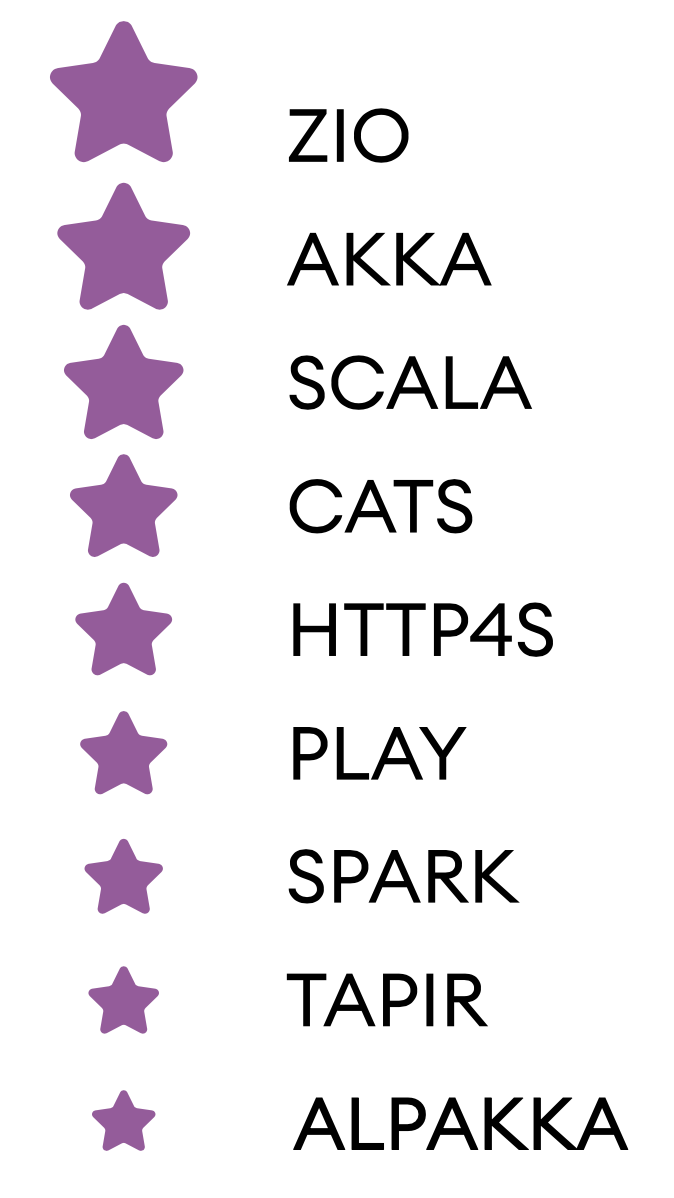 The projects that attract most contributors across our respondents are ZIO and Akka. This is mostly in line with the most liked libraries out there. And probably shouldn't be surprising: both ecosystems are growing and hence there's a lot of work to be done around them.