11 best tech conferences in Europe in 2023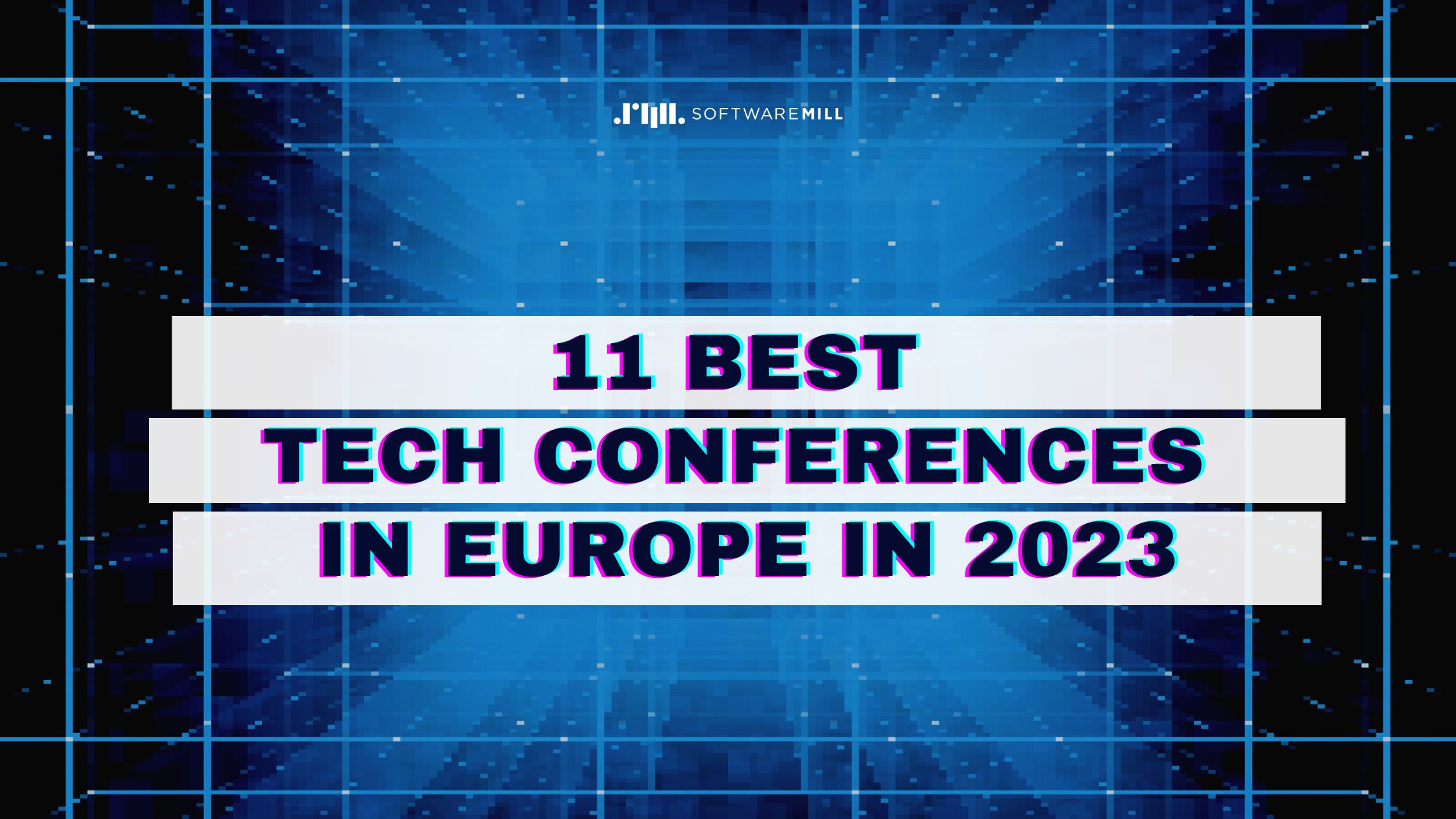 Tech conferences are a great opportunity to stay up-to-date with the latest developments in your field. With workshops, keynote speeches, and breakout sessions they provide access to new ideas, technologies, and strategies. It can help you stay competitive in your field and expand your background in the tech industry.
Networking can help you build new relationships, exchange knowledge, find potential mentors and industry experts, or even discover job opportunities in the tech companies.
Also just taking time away from your desk and immersing yourself in a meetup environment can be a great way to recharge your creativity and motivation - especially after the long era of virtual events. It is beneficial for professional development and growth.
If you're unsure which event to attend and want to catch up on new technologies in your field, then no problem! Here are some of the most interesting tech events in Europe in 2023, definitely worth attending:
27 February – 2 March, Barcelona Spain


MWC is a tech conference oriented on the mobile industry with over 80k attendees and 2000 exhibitors. It is the largest and most influential event for the connectivity ecosystem and the theme of this year's edition is Smart Connectivity. Participants will be able to explore a wide range of topics including fintech, 5G acceleration, Reality+, or innovation ecosystems. It's the perfect opportunity to meet, review, and discuss the state and future of the mobile tech world with the industry experts.
23-24 March, Warsaw Poland


Scalar is the biggest event in Central Europe focused entirely on Scala and functional programming. It's a single track type of conference so you won't miss any speech. You can learn the best practices for building scalable and maintainable applications, and hear some cases from professionals that are successfully using Scala in their production environments. You will meet passionate people who can show you new ways to approach problem solving and dive into interesting discussions and exchange experiences.
24 – 27 April, London United Kingdom


One of the biggest in-person JavaScript conferences in Europe, definitely a great place to learn about the latest developments and trends in the JS ecosystem. You can expect jam-packed keynotes, sessions, and workshops. From Angular and React to WebAssembly; from Progressive Web Apps to JAMstack – international experts share insights on the present and future JavaScript. This year's keynotes revolve around Svelte and the power of reactivity in leading frameworks.
23 - 24 May, Virtual Event
25 - 26 May, Vilnius, Lithuania


DevDays Europe is a conference gathering distinguished speakers and developers from all around the world. The event focuses on the latest trends and best practices in software development in various technological platforms and programming languages. You will have the opportunity to learn about cutting-edge technologies from international specialists and tech enthusiasts. DevDays is dedicated to developers that are serious about staying informed of the latest trends, tech advances and using that knowledge to create innovative solutions and new technologies.
31 May – 1 June, Dublin Ireland


Tech Summit brings together tech leaders, entrepreneurs, and experts from around the world to analyze the latest developments and trends in the industry. The summit covers a wide range of topics in nearly 20 themes, including artificial intelligence, cloud computing, blockchain, cybersecurity, and more. This tech conference is a good opportunity to meet and listen to multiple successful stories presented by keynote speakers and people such as the CTO of Stripe or the CEO of Stack Overflow. By attending Tech Summit, you can expect to expand perspectives, make valuable connections, and gain a better understanding of how technology is driving innovation and shaping the future.
31 May - 2 June, Cracow Poland


Devoxx is a series of conferences in several countries not only in Europe (Belgium, France, the UK, Poland, Morocco, and Ukraine). The Polish edition takes 3 days full of talks about architecture, Java tools and frameworks, security, AI, and best development practices. Devoxx tech events gathers 15.000 attendees annually and collects brilliant speakers. Most of them are actual programmers, talking about real-life solutions based on their own experience. There was also a solid representation of our SoftwareMill experts like Magda Stożek, Adam Warski, or Jacek Kunicki.
12th - 16th June, London United Kingdom


London Tech Week is a 5 days long series of talks and networking events, where you can meet a cross-section of investors, entrepreneurs, and start-ups. This year it will be the 10th anniversary already and this edition will be focused on building responsible & sustainable businesses, inspiring a sustainable future, and discovering the next tech frontiers. You can expect to meet world-class leaders, and insightful talks about the current innovation landscape. Last year this technology event hosted over 20k participants and over 300 speakers, which means you definitely won't get bored during networking in London!
15 - 16 June, Amsterdam Netherlands


The theme of this year's edition of The Next Web Conference is "the next in tech, now". The event will be full of workshops, speeches, seminars, and presentations of the latest trends and advancements in tech. You'll get insights from industry pioneers, and meet international tech executives, policymakers, startups, and scale-ups. Previously they hosted such recognizable speakers as Edward Snowden (cybersecurity), Gavin Wood (founder of Ethereum), and many more interesting people from the tech world.
28-29 June, Amsterdam Netherlands


It's considered Europe's central meeting place for the Women in Tech community. This is a unique conference gathering female tech leaders, diversity advocates, and change makers. You will hear from entrepreneurs and industry leaders sharing the challenges they have faced in their professional careers and how they were dealing with obstacles. In previous years, there were many inspiring faces like Isabel Vilacides (Director of Engineering at Github) Cliodhna Kirk (IT Lead at Greenpeace), and Victoria Bunyard (CTO at IBM).
26-27 September, Amsterdam Netherlands


Data Expo is a great showcase of next-generation technologies from the world of Artificial Intelligence & Big Data. The conference allows you to discover the practical and successful implementation of AI & Big Data in driving forward both business and development.
The main themes of this year's edition are among others: responsible and ethical AI, DATA monetization, enterprise adoption, or the rise of AIOps. If you are into these topics this event is a great choice as it offers top-notch content, solution-based case studies, live demonstrations, and several networking opportunities.
13-16 November, Lisbon Portugal


Last but not least we have one of the most prestigious technology conferences in Europe. The last edition was visited by an impressive number of over 70k attendees (including 42% of women). Web Summit attracts top speakers and tech experts from around the world, including founders of recognizable services (Airbnb, Apple, Revolut, Bolt, Stackoverlow, and many more). You can expect to meet a lot of well-known and inspiring people, dive into huge amounts of exhibitions from a wide range of tech areas, and discover numerous startups.