Why we play online games in our remote team and why you should too
Online team-building activities and tools we tested
Being a part of a team is a lot like playing a multiplayer game. Your team's success depends on how well your group works together, how you camaraderie, collaborate and communicate.
There's a cool study explaining the benefits of team building events in the realm of the World of Warcraft:
"This motley group learned how to defeat an end-game dungeon through collaborative improvements on communication and coordination. It focused on sustaining and building player relationships and learning together (...)."
It really rings a bell to me as we have a lot of gamers in our Team and can't unsee the similarities! My entire Team has always worked remotely. To foster connections, we met IRL once a month for a company retreat. We miss these get-together meetings a lot.
We moved our monthly retreats online completely. When looking back at our 12 online Team building days we've had so far - they are full of games. I think I have enough exp now to recommend some to you!
Here is how we're staying connected and improving teamwork remotely, what tools, activities, and games we recommend. Feel free to steal some of our ideas or share yours in the comments!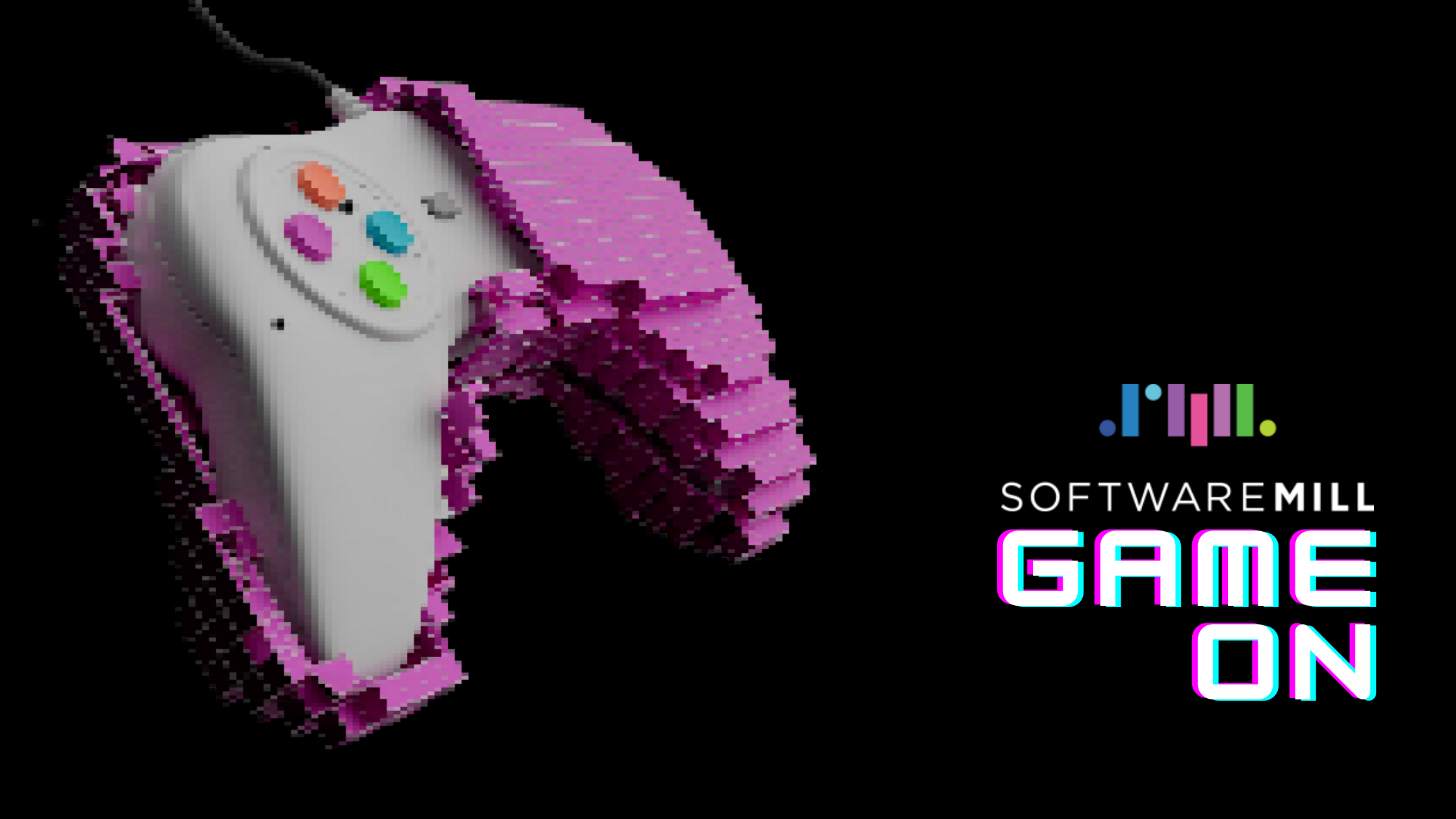 First, let's address the elephant in the room: Zoom fatigue
Online yoga class, online coffee, online company retreat? You probably want to scream when hearing about the next online activity to participate in. Instead of visiting people, attending conferences, meeting coworkers, we talk on Zoom, Meet or Microsoft Teams.
Zoom fatigue is real as everything happens in front of the screen. It causes burden and tiredness. Sometimes it might be hard to get teams excited about online activities, because we're more exhausted at the end of our online workday than we used to be.
Let not the Zoom fatigue stop you from organising online team building activities. Just remember two things.
Make it clear that people are welcome, but not obligated, to join. Especially when the event lasts all day or after regular working hours. Our Online Team Days start at 10am and sometimes end even at 2am. People pop in and out as they wish and attend various activities from the lineup.
Engage people before the event starts. We found out that planning Online Team Days together using Doodle and Google Forms results in more ideas and more satisfactory meetings.
Online games for remote teams
Among Us
It came into our radar in the middle of the pandemic as it was a hit and entertained many people stuck at home. In case you don't know, Among Us is a mafia/werewolf genre game where players spawn on a spaceship and each player is designated a private role as a "crewmate" or "impostor." The aim is to vote the impostor off the spaceship while completing various tasks and missions.
Why would your team like it?
It's super easy and fun, and can get pretty intense. Team members can showcase their personalities, there's space for a juicy discussion and sharp punches. We like it so much we play it each month.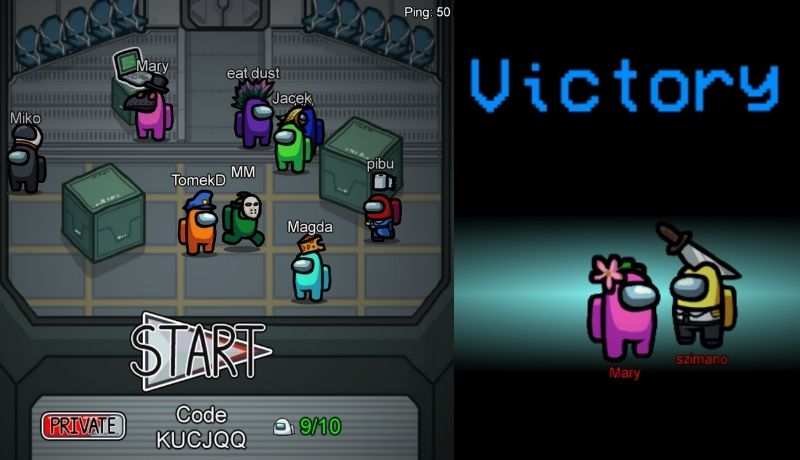 RPG sessions
Role playing games are a thing in the IT world, mostly because they are helping us enhance our problem-solving skills, traits absolutely essential for developers. These games are also magical and fun, therefore strongly addictive and enjoyable.
Why would your team like it?
RPG sessions make the players use a good mix of strategic thinking, problem solving, and creative skills. The game formula focuses on sustaining and building player relationships and learning together. While designed to make teams stronger, they also can help everyone understand their invaluable role as part of the team.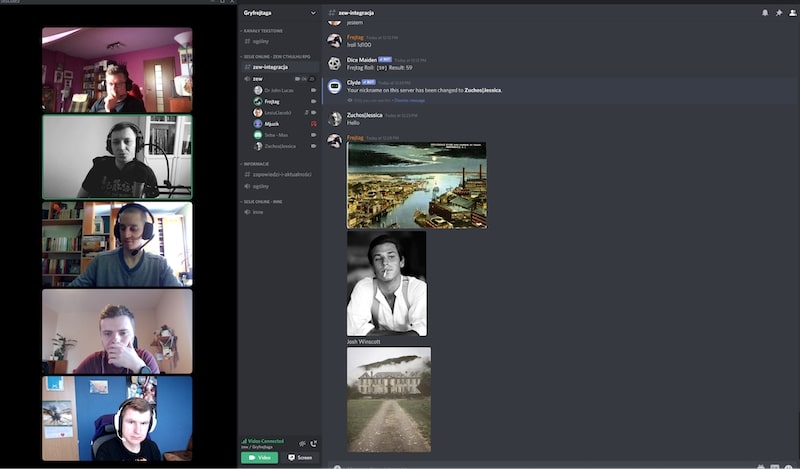 Keep Talking Game
There's a bomb in a room and we need to defuse it! The Keep Talking Game is an example of an ultra cooperative game we really enjoy. When played, everyone needs to work together, focus and react promptly, because the clock is ticking! Also, the puzzles are challenging enough to keep programmers entertained.
Why would your team like it?
It's addictive, players have to really use their brains and communication skills. It can really kick off the dynamic of any team and help everyone develop trust and deal with conflicts after surviving: "should I cut the red one?" - famous last words before the big explosion ;)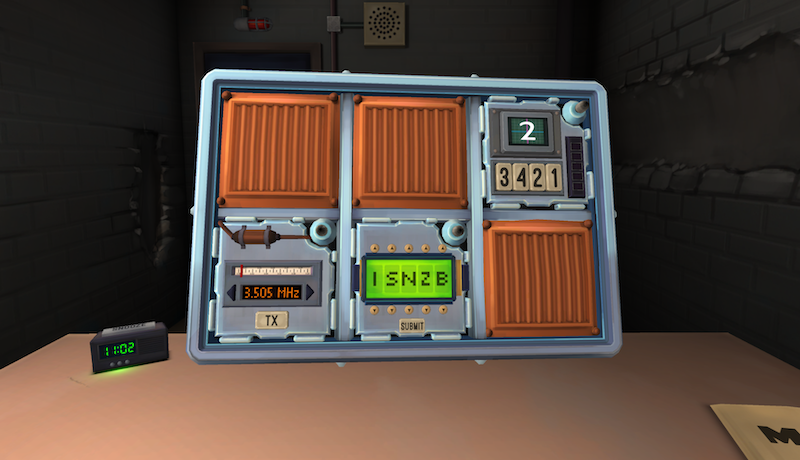 Other games we play
Playing games is something we do often, not only on company get-togethers. Our favourite at the moment is definitely Valheim. But we also enjoy Minecraft, PubG, PummelParty, and Deep Rock Galactic.
In these games, active collaboration helps us achieve game objectives while having fun. In business, it's teamwork that is needed to complete a project on time. In fact, our online gaming sessions hone soft skills and give us a platform to foster relationships in the Team.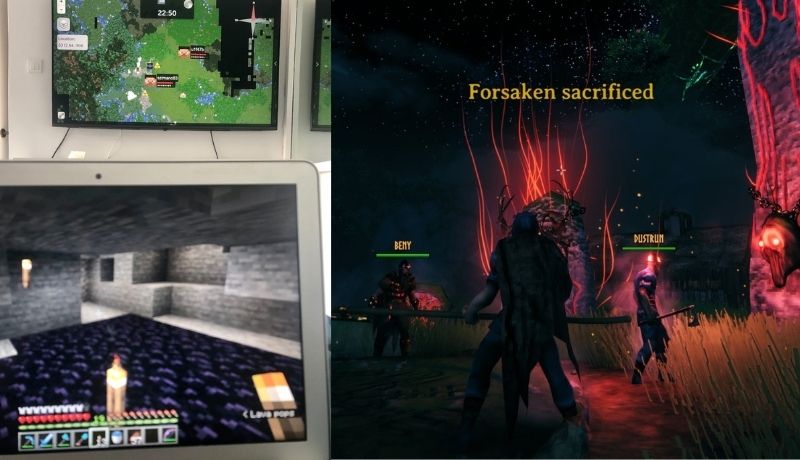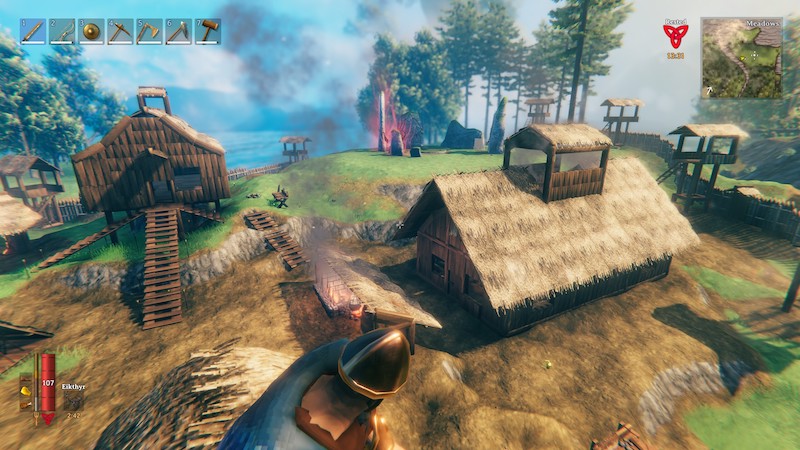 Team-building online activities
How about planning other online activities for your remote team?
We use Doodle and Google Forms to gather ideas from everybody about things they wish to do. Then we start a Slack channel dedicated to a given remote day. All communication happens there so no one gets lost in the lineup. Every remote Team Day starts with Zoom where we kick-off the day, sometimes welcome newcomers and then we disperse to do different activities (we use Zoom, YouTube Live, Welo, and Slack).
Here are four online activities we really enjoyed in the past months.
Escape room
Escape rooms in our Team are always about a friendly competition where we fight for a status-quo of the highest-performing team that escapes the room the quickest. I recommend it to any team that enjoys tackling puzzles and looking for clues. It boosts spirit and every time we play, it gives us a great sense of accomplishment. Such activity can also help any type of team to identify natural team leaders.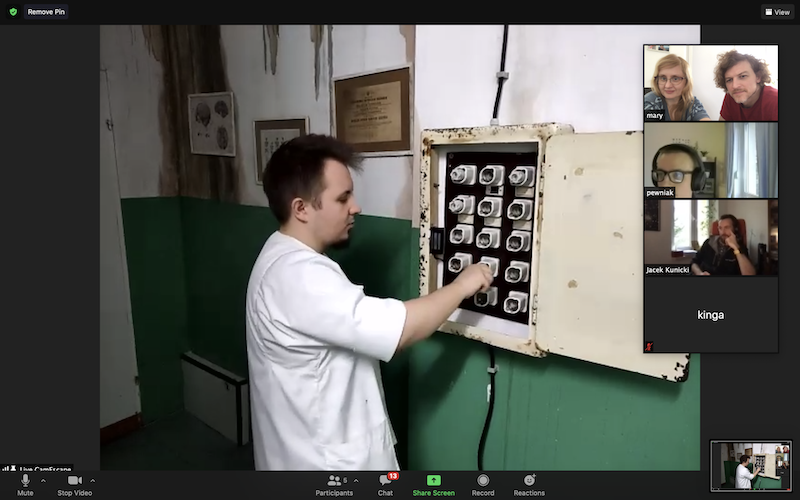 Pub Quiz
We enjoyed Pub quizzes 4 times. Some tested our general knowledge, some were a mix of a crime-puzzle game or our expertise on a given topic. Each time, we really had fun and here in this blog post, we share details on the backstage and technical aspects of how we organized it.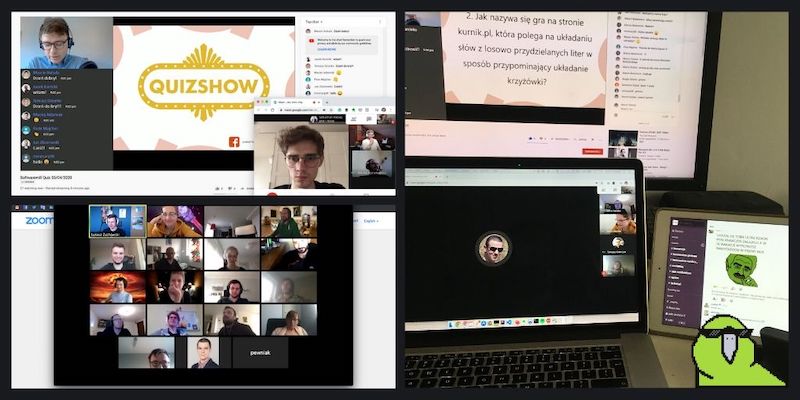 Food and drinks tasting
Teams that eat together succeed together. There's no better explanation of why wine or cheese tasting done together with your team is awesome and much needed. Also, they are relatively easy to organize. Since we cannot go to the restaurants together anymore, we often enjoy online tasting.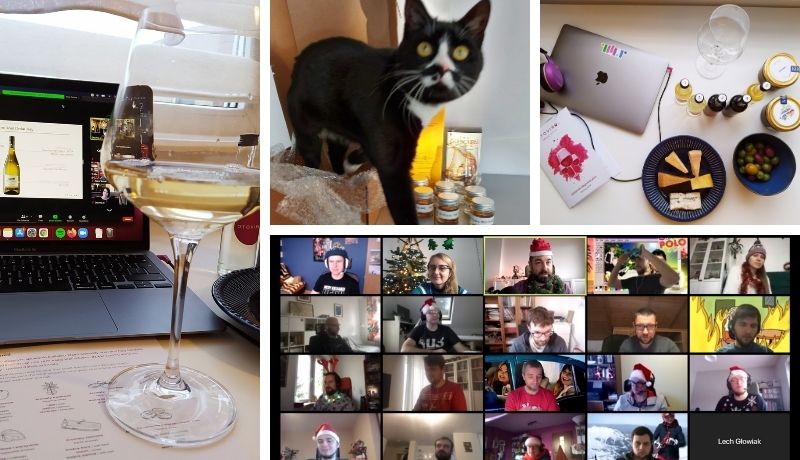 Origami
Origami is meditative and improves spatial visualisation skills. To vent a little and relax, we took an origami class. When folding, everyone was really in the moment. It is a kind of activity where anyone from your team can invite their kids to participate.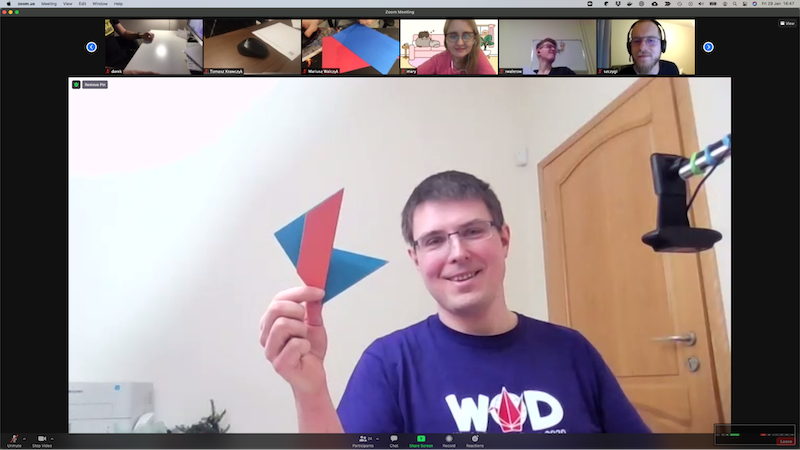 Online tools for remote team building
Welo
Welo is an online office for hybrid teams and agile practices designed to capture ethereal vibes of any office such as quick hallway convos or socializing on the outdoor deck. We have used it for a few months already as early adopters. The app feels like a walk inside a real office, room names are customizable and users walk around as tiny avatars with a picture or a video.
We found it very useful when running our monthly working group sessions. Each group can freely work in their designated room, then we gather in the main space to present results. Feels almost like a real meeting we used to have!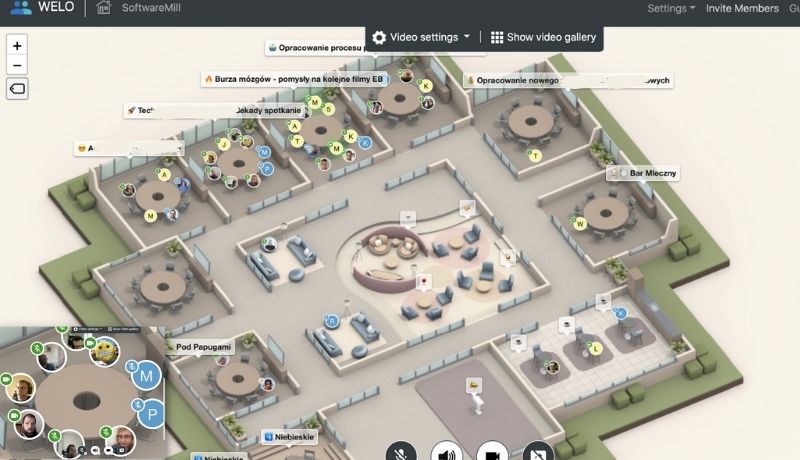 SpatialChat
Spatial Chat is well known in the Scala Community as more and more community events are using it. With the tool, you can recreate real-life social interactions, plan your event venue, share your screen, pin images and videos, use voice communication and chat system to collaborate with attendees and speakers.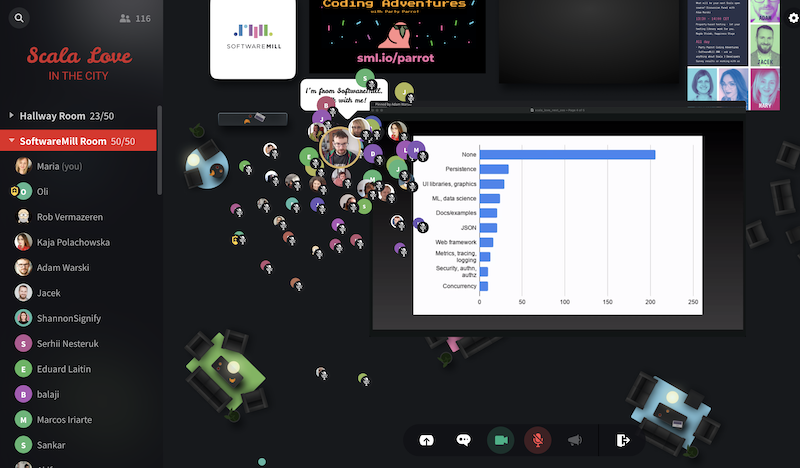 Donut
Donut is a tool we use daily to facilitate small meetups in our Team. Each Monday, the app selects people who normally do not interact with each other often and sends a DM encouraging them to meet up for a video chat. Everyone who wants to participate in donuts joins a queue in a dedicated Slack channel where they can be selected for the upcoming meetings.
As a Team, we get together every morning to talk randomly for a while during a meeting called "Chrum". Now the Chrum formula has great competition as our people really enjoy weekly donuts too and say they help them get to know each other even better.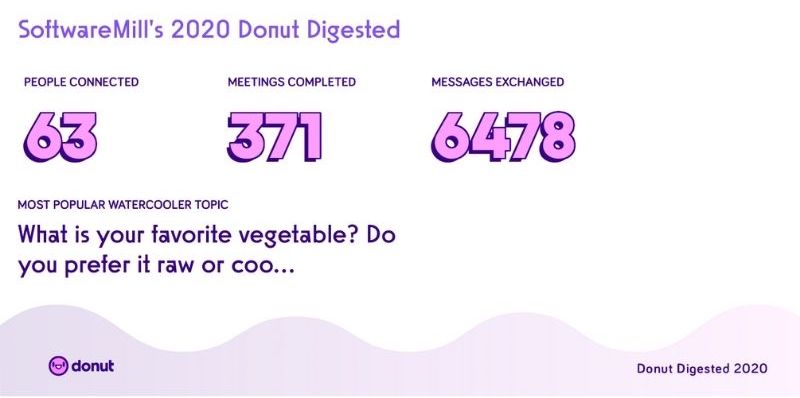 How to measure an online team-building event success?
After each Online Team Day, we're following up with a brief survey to find how everybody enjoyed the event, what activity they participated in, and what they liked and disliked about each thing. Based on the feedback we get, we're planning what to do next and what to avoid.
Why are online team-building activities so important?
For more than a decade now, we have been putting a lot of thought, time, and energy into how we organize our 100% distributed workplace. Various online meeting formats are a part of our regular work routine and we created a setup that enhances our daily work.
Remote work is something we know inside out (check out this ebook), but completely remote team building was a novelty. We had a tradition of meeting once a month in different cities and going away for a weekend twice a year. Our main goal was to keep this tradition and not let the morale go down by just being left with fading memories of how it once used to be.
I can recommend online games and activities we tested at SoftwareMill to any remote team that is looking for ways to:
establish a strong bond among team members and improve morale,
blend improving communication skills and getting to know each other with fun,
build trust while learning new concepts, trying new things together,
maintain a strong, and most importantly, your own unique company culture.
If you got here, tell me what online activity or an online game you recommend!