Solidarity with Ukraine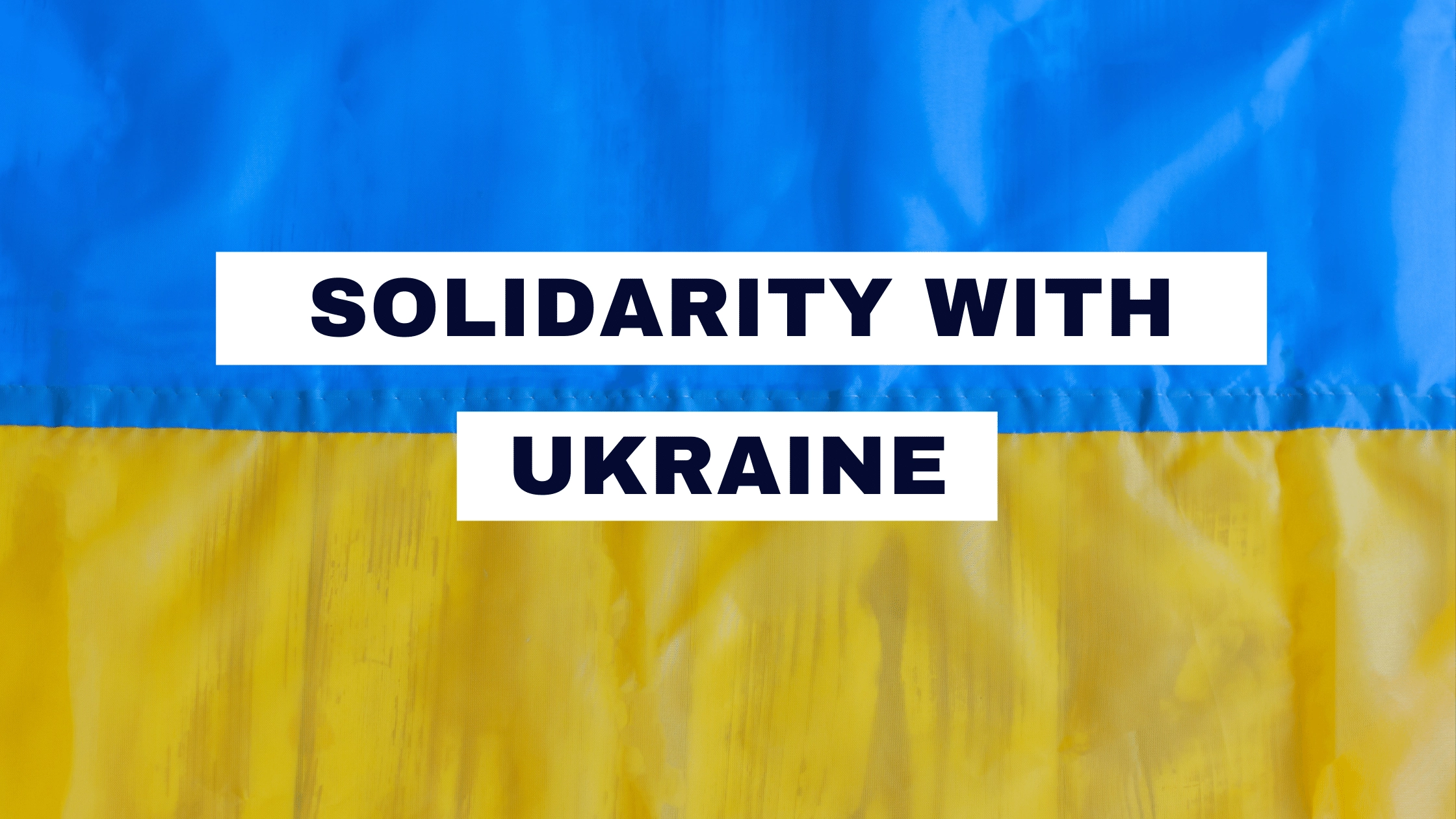 It's not a standard post on our blog, but current times are anything but standard. It's the second week of the Russian invasion of Ukraine, which challenges the peace and democracy in our region. As the majority of our grandparents remember the horrific time of the Second World War, we still can't believe that someone decided to start a war with our neighbors. As I'm writing this article, 1 million people have already fled Ukraine, and an estimated 3-4 million are likely to follow. They seek temporary housing, medical care, and transportation, and soon they will need systematic legal support, translation services, and job search.
That's why we're writing this post - to share examples of how people help and how you can help.
How Polish tech companies support Ukraine
Many Polish tech companies employ Ukrainians and acted by offering support with relocation, in-advance salaries or special donation campaigns. Below, you can find examples of general support, not linked to helping out employees, but in general all Ukrainians.
UbraniaDoOddania.pl is organizing large transports with help to Ukraine. People from Warsaw flood their warehouses with donated goods. They use Instagram stories to announce the current list of needed items which changes every few days, varying from cleaning detergents, baby food, clothes, blankets, batteries to medical equipment.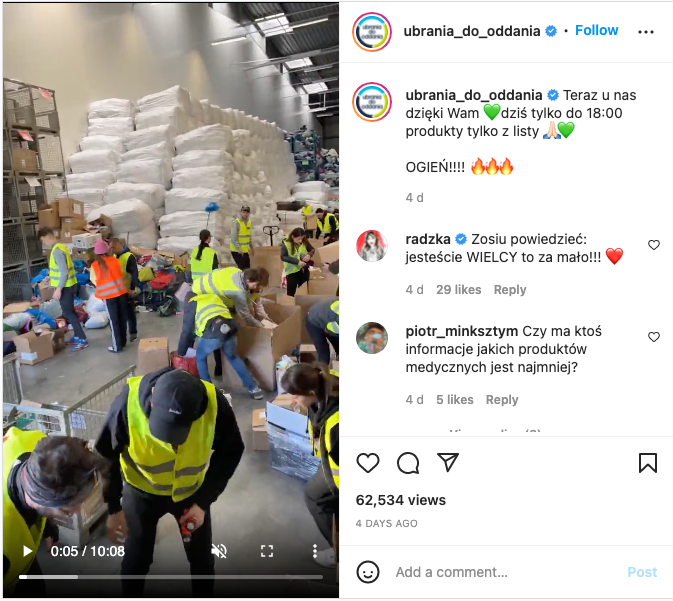 Piotr Karwatka from Divante, after driving 6 hours during the weekend to bring a Ukrainian family to Poland, bought a bus that will be transporting people from Lviv to Poland.
My friend @piotrkarwatka drove 6h to the border to pick up a Ukrainian family and safely transport them to Wrocław. His story: https://t.co/rcvvA0Rr6m

[2/8] pic.twitter.com/lRVUvQoJJv

— Borys Musielak (@michuk) February 28, 2022
10clouds, apart from the immediate support offered to their Ukrainian employees, have also rented 5 flats for Ukrainian families for one month. They also give bonus time-off for employees who want to actively support Ukraine. They set up an emergency communication channel where they collect the needs and coordinate necessary relocation arrangements, share support initiatives. They also offer mental health support - certified therapists support their employees in any language, including therapy sessions in person or remotely.
Polish IT for Ukraine - a huge support initiative collectively organized by many organizations and companies. Part of it is a fundraising campaign Global TECH and business for fighting Ukraine #CyberBridge. With the money they collect, the organization buys and transports medical, tactic, and humanitarian goods to Ukraine - thanks to the cooperation with the Ukraine Foundation.
One of the success stories from recent days - within 72 hours from the shelling - three hospitals received medical goods.
Donate here: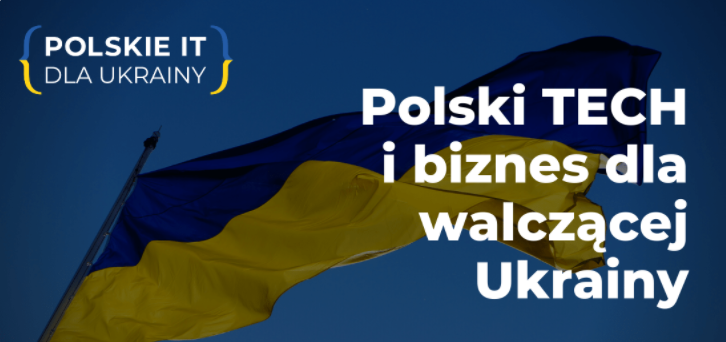 Daniel Surmacz - COO of RTB House has organized hotels in Krosno that will be able to host 200 refugees. They provide food, accommodation, doctors, and psychologists.
Michał Sadowski from Brand24 launched a Twitter profile to fight disinformation. It shares bots and fake trolls that anyone could block and help with removing them from the platform. Michał also acted on the clip published by BBC that suggested racist behavior on the Polish side of the border. BBC replaced it with a longer clip covering the details and the fact that the extremely difficult situation happened on the other side of the border.
Popularny francuski dziennik Le Figaro opublikował nieprawdziwą i krzywdzącą mapę krajów, które wspierają Ukrainę. Zostało to już zgłoszone i poprawione. Polska jest na pierwszej linii pomocy Ukrainie zarówno pod względem militarnym i humanitarnym. pic.twitter.com/f6LiJXr1Cr

— Demaskujemy dezinformację (@przeciw_wojnie) March 3, 2022
Netguru announced that every financial donation to an NGO made by their team will be matched by a donation from Netguru to the Polish Center for International Aid. They also have an internal blog space with links to current initiatives, as well as verified resources with how-to manuals, lists of NGOs and charities raising donations. Similar resources have been prepared for their clients and partners willing to help. Also, every Netguru team member receives complimentary access to mental health support services.
CD Projekt Red decided to support humanitarian aid efforts by donating 1 million PLN to the Polish Humanitarian Action (PAH). As they wrote:
"We cannot remain indifferent in the face of such injustice and we ask everybody to join in and help in any way you can. Together we can make a huge difference!"
VirtusLab in co-operation with NGOs actively supporting Ukrainian refugees, created a website transporterua.com to provide transport from the border to Krakow and organise their arrival in Krakow.
🟦🟨

In co-operation with NGOs actively supporting Ukrainian refugees, our #VLteam created a website to provide stewardship and organise their arrival in Krakow.
➡️https://t.co/XV4vDHv209 - for people who need transport
➡️https://t.co/TJ3EdEW1Wy - for people who offer transport pic.twitter.com/dRAfl78A9T

— VirtusLab (@VirtusLab) March 3, 2022
Tech To The Rescue is a voluntary movement of tech companies that help social impact organizations around the world. Right now, they've launched a dedicated #TechForUkraine campaign that's been already joined by 300 companies, 700 freelancers, and 36 non-profits.
If you want to help with developing one of these projects, the first step is to pledge your support and they will match you with it.
Individuals' support
Thousands of people across Poland are volunteering in help centres - gathering and sorting donated goods, cooking, organizing shelters, buying tickets for transport, or driving people from the border.
Here the help centres in Wrocław and Warsaw:
My other friend @pauwardega has ben helping @vicky_umanska with sorting out the donated goods in one of the help centers in Warsaw to make sure everyone gets the help they require.

[7/8] pic.twitter.com/ENWI6XzFlN

— Borys Musielak (@michuk) February 28, 2022
What we did at SoftwareMill
Inspired by 11bit studio, we've issued an anti-war statement condemning the Russian aggression on Ukraine and announcing the donation of all company profits from February to the Ukrainian Red Cross:
Yesterday, the Russian Federation unlawfully invaded the free country of Ukraine, challenging the peace and democracy in our region we were so lucky to have for over 30 years.
While SoftwareMill usually does not take a stance in political matters, there are some things that we, as an organization, cannot just walk past.
Let us make it clear: we stand against the Russian invasion of Ukraine. We stand against the law of fist, where the stronger bullies the weaker and takes whatever it wants. We love democracy and support the Ukrainian people in choosing their faith, away from terrorists and authoritarian Russia.
We also believe that just talking about it, although very important, will not cut it. To make a difference, we will donate all our February profits to the Ukrainian Red Cross to help the victims of this senseless violence.
StandWithUkraine
Ми любимо тебе Україно!
The free world stands with you.
We stand against the Russian aggression of Ukraine! This is SoftwareMill anti-war statement.#StandWithUkraine
Ми любимо тебе Україно!
The free world stands with you.@RedCrossUkrainehttps://t.co/HTRoPju2DB

— SoftwareMill (@softwaremill) February 25, 2022
We've also set up a dedicated Slack channel where we organize help for refugees hosted by people from our team. Right now, many of us help locally - preparing sandwiches for people arriving from the border, hosting refugees, donating goods, organizing places to stay for a longer time.
How can you help
Please act, do not stay indifferent to what's happening in Europe. Here are a few examples of what you can do, even if you're not in Poland.
Click to tweet
Be vocal about support for Ukraine in your organization
Start discussions for example on Slack channels about how your company could help. Consider launching a campaign to collect funds or donate money.
Support Ukrainians that you know
Make it clear that you stand for them. Ask your Ukrainian friends how you can help and what they need right now.
Demonstrate your support
Unite in your community and find your nearest demonstration to show your support.
Donate and support Ukraine
Here is a specific fundraising campaign that we recommend:
Global TECH and business for fighting Ukraine #CyberBridge as a part of Polish IT for Ukraine initiative.
They transport goods on-demand directly to hospitals and people in Ukraine. We know people behind it and strongly support them as they're reacting to the relevant 24/7 information about the needs of HERE & NOW directly from the front.
Here are great resources with links to initiatives, organizations and more:
Take part in the Tech To The Rescue initiative
If you or your company are willing to help, the first step is to pledge your support and they will match you with a suitable project.
Fight with fake news
The war is happening not only on the front but also on the internet. Make sure to double-check the sources of the information you're sharing. Block accounts that are spreading fake news about the Russian aggression.
Let's act. We all can make a difference — #StandWithUkraine 🇺🇦 💙
The scale of support is really massive and I might have missed many important initiatives. Have more examples of Polish tech support for Ukraine? Please leave a comment.