​
Welcome to the second part of the analysis of the performances of our
representation during the Euro 2016. In the previous post, we've presented the statistics from matches of the group stage,
and in this post we'll show the most interesting tweets regarding the matches of the knockout stage.
The description of the methods of gathering data and the assessment criteria can be found in the first part, so now we'll go straight for the matches of the Polish team.
Switzerland - Poland 1 - 1 (p. 4 - 5)
Top 5 most popular polish tweets about the match
1
LEWY ŚPIEWA LOVE YOURSELF KISNE😂 #POLSUIhttps://t.co/lLJStGrsEw

— verrr (@yeezyljp) June 25, 2016
2
Cóż za emocje! Brawo Biało-Czerwoni! Jesteśmy w ósemce najlepszych reprezentacji w Europie! #SUIPOL#Euro2016

— Beata Szydło (@BeataSzydlo) June 25, 2016
3
niesamowity piłkarz jak i człowiek💖 #POLSUIpic.twitter.com/Pvqrv6BX2Q

— fretka❁; (@bearsmartina) June 25, 2016
4
Mamy tooo... Reakcja @SzymonBorczuch i @JKurowski na ostatniego karnego @GrzegKrychowiak... #Polska16#SUIPOLpic.twitter.com/YDUJX8rw4B

— Piotr Michałowski (@piomichalo) June 25, 2016
5
ON NADAL NIE WIERZY W TO CO SIĘ STAŁO #POLSUIpic.twitter.com/1T9Vo4ioTl

— ㅤ (@gomezsreasons) June 25, 2016
Top 5 most popular tweets from the abroad about the match
1
C'mon Poland !! Team work !! #POL v #SUI#UEFAEURO2016

— Russell Crowe (@russellcrowe) June 25, 2016
2
Here it is...

You'll want to watch this over and over again.

Shaqiri has joined the party!#SUIPOLhttps://t.co/ETm3d34gm2

— Match of the Day (@BBCMOTD) June 25, 2016
3
Kuuubaaaaaa ... 🙌🏽⚽ Congratulations Bro! ✌ #SUIPOL#EURO2016

— Ilkay Gündogan (@Guendogan8) June 25, 2016
4
Polskaaaaaaaaaaaa!!!! 🎉🇵🇱✊🏼😁 #EURO2016#POLSUI#roots

— Matt Pokora (@MPokora) June 25, 2016
5
Unfortunately Jakub Blaszczykowski will never trend on Twitter because only about 20 people know how to spell his name #SUIPOL#EURO2016

— Footy Humour (@FootyHumour) June 25, 2016
The match has been exhilarating and the joy from the won penalty shots can be seen on Twitter:
Lewandowski is delighted, the fans are delighted. Much has been written about
Kuba Błaszczykowski who scored during the match, and successfully performed the penalty shot.
Twitter abroad has been dominated by the tweets by Russel Crowe, who has been
committed to rooting for our team during the entire tournament. Fans were also
enchanted by the beautiful goal by Shaqiri.
Number of tweets during the match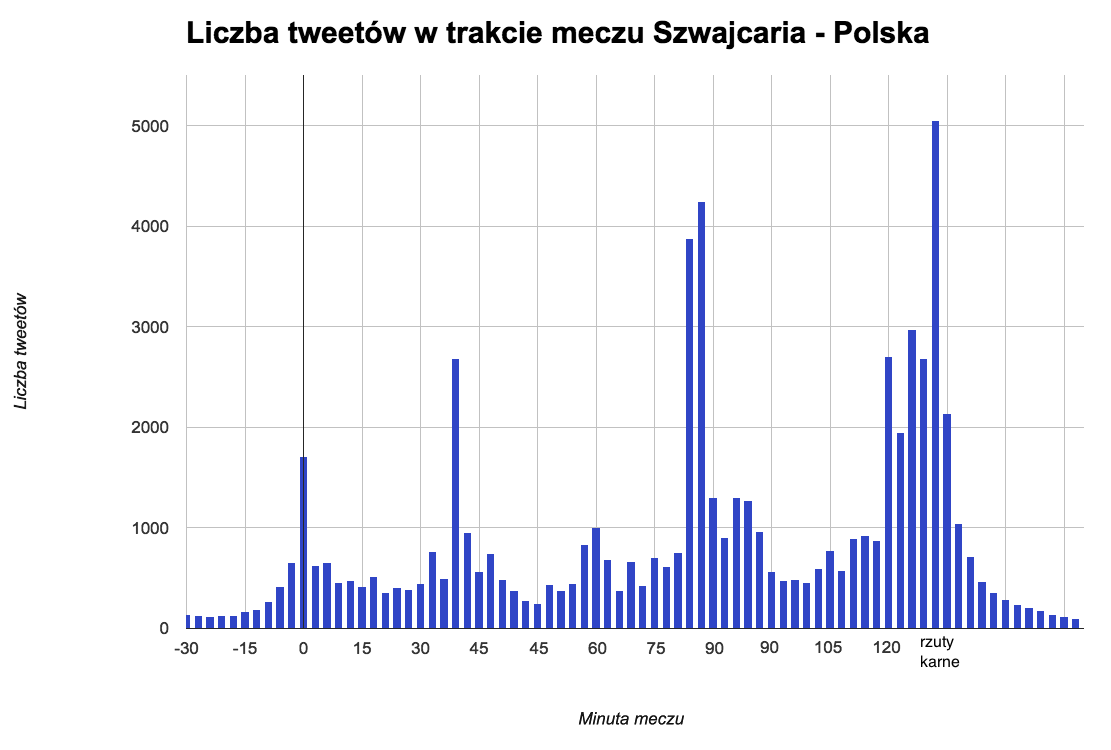 (each rectangle shows the number of tweets within a three minute period: 0-3, 3-6 minutes of the match and so forth)
Because there were no goals, there were also lower fluctuations of activity on Twitter
than during the match with Northern Ireland. But after comparing with
the match report, there is some correlation with what happened on the field:
The beginning of the mach

39th minute: Błaszczykowski's goal setting the score at 1-0

82nd minute: a beautiful equalizing goal by the Swiss

Penalty shots and Poland's triumph, we advance to the quarterfinals
Poland - Portugal 1 - 1 (p. 3 - 5)
Top 5 most popular polish tweets about the match
1
HAHAHAHAH, NIE WIERZĘ, WYGRAŁO>>>😂😂😂😂 #POLPOR#POLpic.twitter.com/YYQUpvYi6X

— Polska wygrała Euro. (@hereformyidols9) June 29, 2016
2
TEN KTO ZROBIŁ TO ZDJĘCIE POWINIEN DOSTAĆ NOBLAXDDDDDDD #POLPORpic.twitter.com/r4MZwh5pnx

— energetyczny soczek✨ (@93irishbaby) June 30, 2016
3
te zdjęcia sprawiły, że pękło mi serce, oni myślą że nas zawiedli a tak wcale nie jest #POLPORpic.twitter.com/cpr8biSrwW

— tęczowy miś (@louehxking) June 30, 2016
4
WIŚNIA: BO TO ŹLE WPŁYWA NA POTENCJE .
SZCZĘSNY : NO TO JA JUŻ NIE MAM .#POL#POLPORpic.twitter.com/sfFchjipTn

— Księżniczka Hogwartu (@k_karolina_1) June 27, 2016
5
błogosławie wasz tl tym oto pięknym gifem! #POLPORpic.twitter.com/UggJzv1fdH

— smerfetka,, /4 (@opssmynialler) June 30, 2016
Top 5 most popular tweets from the abroad about the match
1
Un detalle que los jugadores de Polonia lleven la clave de WIFI del estadio en sus camisetas. #EURO2016#POLPORpic.twitter.com/dfBCvXwG5a

— ToniEmCee (@toniemcee) June 30, 2016
2
Oh man #POL .... Bad luck. You did great. Be proud. We love you Kuba. You are a hero. Congratulations #POR

— Russell Crowe (@russellcrowe) June 30, 2016
3
The night before ... #UEFAEURO2016 ... I know I have friends in #POR , however tomorrow my heart is with #POL ...do boju Polska !! Rest now

— Russell Crowe (@russellcrowe) June 29, 2016
4
C'mon Poland, let's do this !! #POL v #POR#UEFAEURO2016

— Russell Crowe (@russellcrowe) June 30, 2016
5
Le #POR au terme des 90 minutes dans cet #EURO2016:

1-1 vs #ISL
0-0 vs #AUT
3-3 vs #HUN
0-0 vs #CRO
1-1 vs #POLpic.twitter.com/55VPfnht5v

— Actu Foot (@ActuFoot_) June 30, 2016
Before the match, Polish fans were excited at the thought of a confrontation between
Lewandowski and Ronaldo and later gave credit to Pazdan's sportsmanship and, after dropping out after the penalty shots, to the entire team.
Poles also liked the goal by Lewandowski, who finally came through in this tournament.
In turn, foreign fans joked about Jędrzejczyk's difficult to pronounce surname,
that it would be a great choice for the stadium's Wi-Fi password. Our faithful
fan, Russel Crowe, encouraged the Polish team to fight, and did not hide his sorrow after the match,
but also congratulated our representation on the achievement at the Euro.
Foreign commentators also noticed that Portugal came so far achieving only draws within the match time.
Summary
The Euro has come to an end for the Polish team. However, we hope that
with this analysis we've managed to capture the most important,
interesting and funniest moments of this tournament on Twitter. A historic
tournament for our team, because not only did we manage to score our first goal
during the Euro, but also won the first match, got out of the group stage
and dropped out only after the penalty shots in the quarterfinal, not losing a single match.