Our clients rate our ability to deliver custom software
We've been awarded the Top Software Developers in Poland!
Technology is always about doing more with less. Yet, it works only if you pair technology with the right, skilled people for the job.
Our software engineers are fully equipped with experience and knowledge to solve almost every challenge. An opportunity to create valuable software and to solve real problems that affect others in significant ways is our daily reward, but we must say it honestly… it's also great to be recognized and named as an industry leader!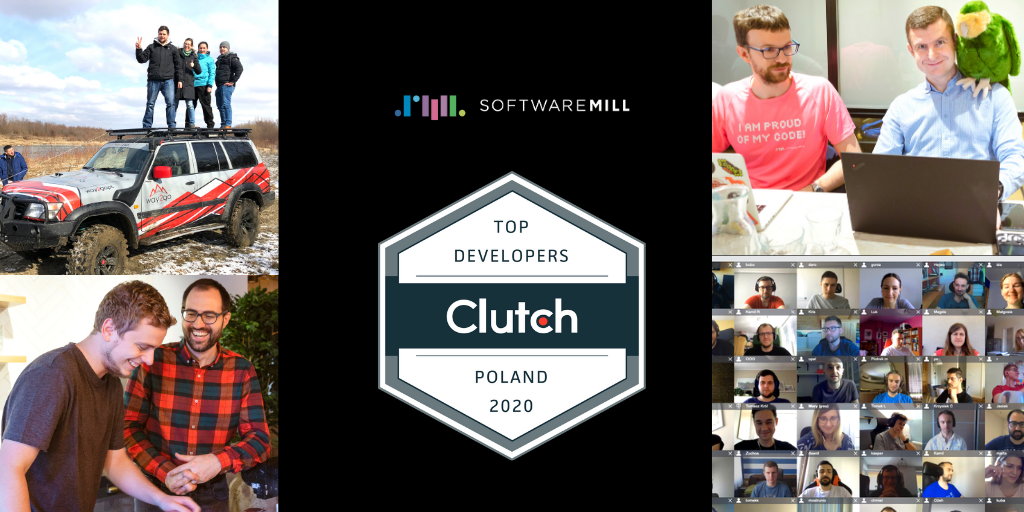 We're thrilled to find out that among all software companies in Poland we ranked third in the category of best software developers for 2020 (check out Clutch's press release). Taking into account that last year we got 5th place, and now we are 3rd, I'm curious if next year we will see a pattern here :)
How does Clutch choose the best software companies
Clutch selects leaders based on strict criteria like: services offered, past clients, case studies, awards received or social media presence. The platform goal is to help businesses find, pre-select and match with the best tech partners. Thus they put a great emphasis on evaluating ability to deliver.
It's obvious now that we couldn't have gotten this far without our amazing clients. They took time to engage with Clutch analysts that assess our impact on a number of criteria:
recency, number, and quality of Clutch-verified reviews
types of clients we've worked with
services and experience
brand reputation and brand visibility
We truly appreciate it and believe that building transparent business relationships is a crucial factor that got us here. Working with great people creates great results and makes us love what we do. We were graded along the lines of quality, attention to timelines, and overall customer service. We're happy to say that we've achieved a wonderful 4.9 out of five stars. Thank you!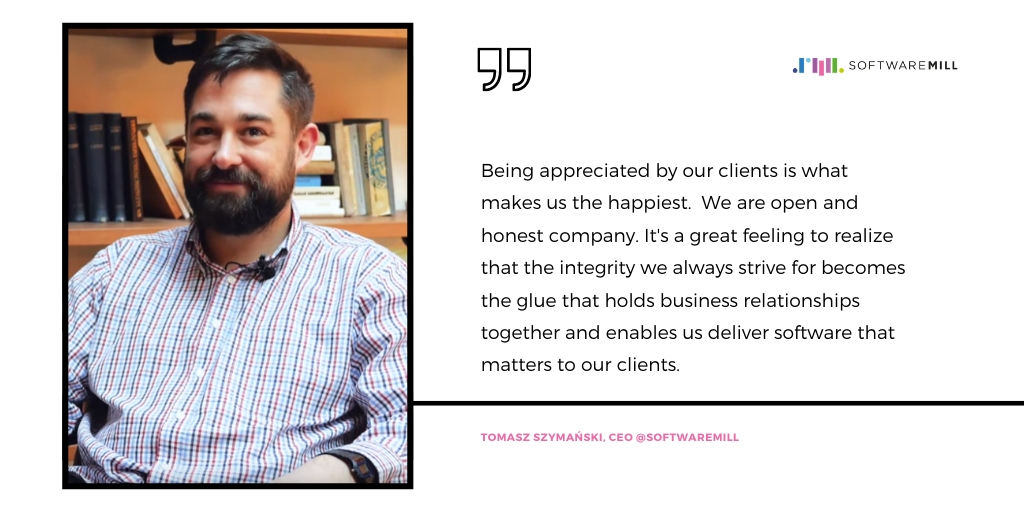 What our clients valued the most
Software craftsmanship and proactive approach
Assessio is a consulting company specialised in strategic HR. They develop and provide assessments in regards to personality, culture and ability to help companies recruit the right people objectively, based on data. Our role was to provide critical development support to their in-house team and support backend infrastructure using Java, Spring and React for the frontend.
"Their developers were extremely professional and knowledgeable, and they were experienced at working remotely. (...) They fit into our processes very nicely and brought new ideas while also being pragmatic with documentation, balancing being software craftsmen delivering perfect code, and addressing the needs of the team and of the business."
- Anton Bagchi, Director of Engineering, Assessio
Industry expertise and business mindset
We handled custom software development and maintenance for a telecommunications company. We've built and are now revamping an analytics portal using Angular, Java, and MongoDB.
"The reason we chose this team was because of their experience in working with companies similar to ours. Also, we liked the fact that they understood the goals we had for the project. We valued Softwaremill for excellent support and effective deployment are hallmarks of their high-quality work."
- Technical Director, Telecommunications Company
Excellent communication skills
Salt Security is a cybersecurity startup that offers an API security product. Their mission is to make it safe for companies to innovate by protecting the APIs that are the core of every SaaS, web, mobile, microservices and IoT application. Salt Security hired us for development support in Scala.
"We like working with SoftwareMill. They know how to work remotely; they can help compensate for the distance and detachment. The team does a good job."
- Yaron Hagari, VP R&D, Salt Security
Top notch remote work standards
We provided Scala expertise for development projects in a biotech company. We managed backend and frontend tasks for a data platform, and integrated our work into cloud-based systems.
"SoftwareMill is an invaluable remote asset. Their input drives strategy, and they are well-organized project managers. They accommodate a time difference, and they always make themselves available to answer questions or offer suggestions."
- Senior Director of Data Science, Pharmaceutical Company
We've been rated by more satisfied clients, check out all of the reviews on Clutch.
We are ready to help more clients thrive
We're a people company. Behind every success we make, stands an extraordinary team. Get to know us better in this short video :) You can enable english subtitles in the YT video settings.
We know it can be difficult to keep up to date with the latest development trends while also promoting growth within your company. That's why we're here to help! We specialize in Scala, Kafka, Akka, and Cassandra, among other technologies.
We focus on the efficiency and scalability of solutions. We always aim to build a mutual business relationship and hit the spot with quality, the right tools for the job and engineering without the unnecessary over-architecture.
We're thrilled to receive this award and we look forward to helping even more clients thrive.
Have an idea in mind? Drop us a line if you'd like to collaborate on a project today.