Just recently we found out that out of 474 amazing Polish software development firms we've earned a position in the TOP 5!!! That's a pretty good position, isn't it? Now, you're probably expecting a nice story about how we did that and what's the recipe.
Being truly honest, we have to admit that we don't know for 100% how it happened. We've been developing software and the company for 10 years already. What we know is that we combine:
But is that a recipe for becoming one of the top custom software developers in Poland? Let's dig into details and try to find out.
As you can see from the Clutch Leaders Matrix our Clutch rank resulted from high notes in categories defined as Focus and Ability to deliver. You can see that we are one of the three most focused software houses within the top 15 (u2i and Cleveroad are the others) with the highest Ability to deliver rank.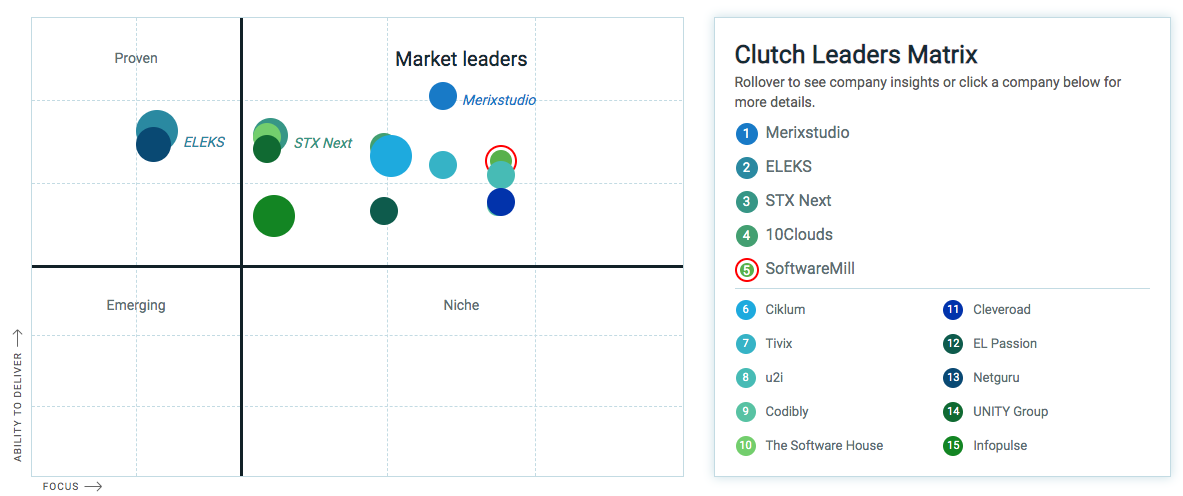 Focus
So what do we really focus on?
Being experts in Scala (Akka, Play, Spark) and Java we specialize in distributed, big data systems, blockchain, machine learning, IoT, and data analytics.

The majority of the projects we deliver are developed for Midmarket and Enterprise businesses.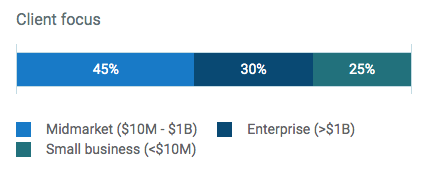 We happen to work for a variety of industries with the business and financial services accounting for around 50% of our services and the other half is divided into information technology, telecommunications, and many other different industries.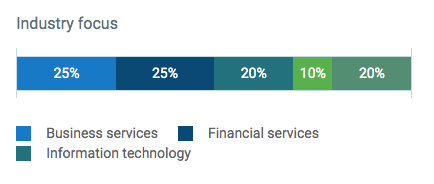 So is that all about this technology, service lines and client focus that earned us the position?
We seriously doubt that. We certainly love the niche we operate in, but we wouldn't be where we are now without the other part which is the quality of the delivery.
Ability to deliver
In our Clutch reviews, in which our clients actually spoke with Clutch to talk about their experiences working with SoftwareMill, we've had an incredible opportunity to learn more about where we excel as a team.
"They have an excellent ability to work remotely without it being a barrier. They fit seamlessly into our team." - CTO, Flexys.
Thank you Brian!
We love working remotely and we think we're quite good at it. It's great to hear that our clients benefit from it as well. In fact, in this particular case, we had an opportunity to share our best practices with the rest of the team that was emerging at the time when we joined the project. It seems that our model might be really convenient for the clients as it's much easier to collaborate when our team is already used to 100% remote collaboration.
"Their informal team structure empowers them to provide attentive customer service without sacrificing timeliness." – COO, Ersules
These are super kind words from Elliott that point at our innovative structure as something beneficial for our clients. We have self-organizing teams which results in direct communication between developers and our clients. Removing this standard middle man seems to be not only streamlining the communication but also enabling the team to get really engaged with the client's problem.
"Their code was high-quality and very clean. The team was flexible and worked quickly, and they established a trusting relationship for the duration of the project." – Founder, Welio
Thank you Andy! The quality of the code being mentioned by our clients in the testimonials is something particularly rewarding. "We build on the traditional engineering work ethics and values (...)" says SoftwareMill's mission and Andy's words prove that it's not only nice words but something we actually practice.
"…They carefully explained the technical steps they took to accomplish their goals." – Quality Engineering Manager, Telecom Firm
Here is just another quote that is an amazing opportunity to learn more about where we excel at providing value to our clients. Communication has been one of the core areas of focus in our company since the very beginning. We knew that 100% remote model won't be possible with world-class communication. Over the last 10 years, we've been developing habits, tools, meeting formats and approach to communication in our team that seems to be working really great. It's incredible to see how our clients benefit from it and how they acknowledge the importance of the quality of collaboration.
These are just a few of the reviews shared by our clients that shed some light on the things that made us end up in TOP 5 Custom Software Polish Developers. To sum it up, we have a hunch that the following things played a big part in the rank:
Remote work model that translates into adaptability with clients' teams and ease of collaboration
Informal organization structure - direct communication with clients removing any communication barriers and increasing the team's engagement in clients project
Involvement in the Scala community and passion for new technologies (blockchain)
The high quality of the delivered code combined with quick results
Finally, focus on communication that stems from our remote work model results in the quality of collaboration with our clients
This quick analysis points at the areas that we'll keep on improving in the coming months. We grow quite fast right now and the challenge we face is to preserve our unique culture, values and standards while scaling the team. We're super grateful for all the kind words shared by our clients. They keep us motivated to keep on doing what we do and to face the challenges ahead of us.
Looking for custom software developers for your project? Reach out to us and get an estimate.