How to help remote teams connect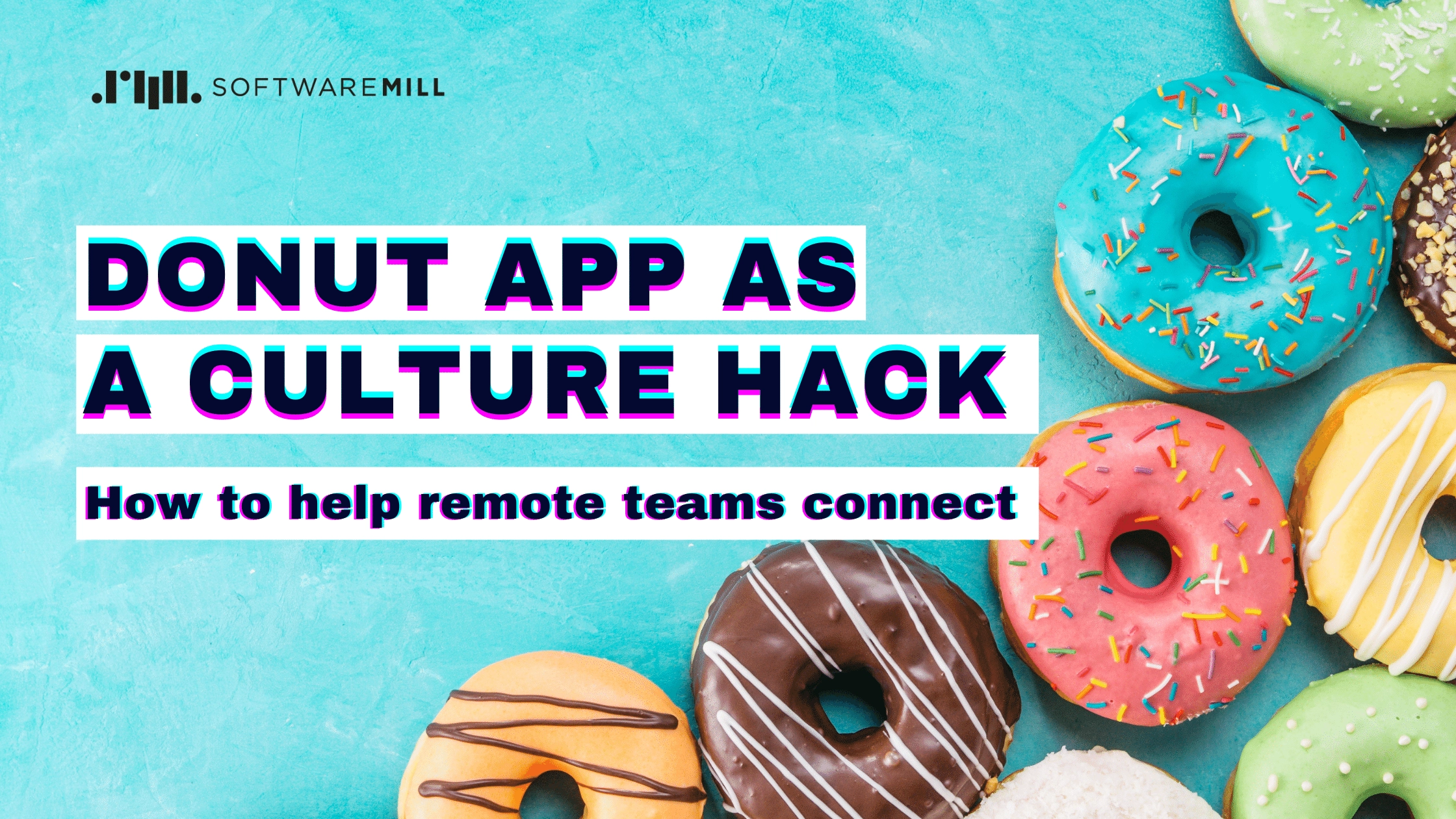 Donut app as a culture hack
It's February 2022. For the vast amount of companies, it's already been two years in a fully remote setting. According to a study conducted by Owl Labs and Global Workplace Analytics among the United States employees, close to 70% of them have been working from home full-time since the pandemic began. After COVID-19, 92% of people surveyed expect to work from home for at least 1 day a week and 80% of them for 3 days a week.
While this scale of remote work might be revolutionary for many companies and workers, for us at SoftwareMill, it's nothing new. We've been a fully remote organization for 13 years already. Today, we're happy to share one of our culture hacks that helps our remote team integrate and connect.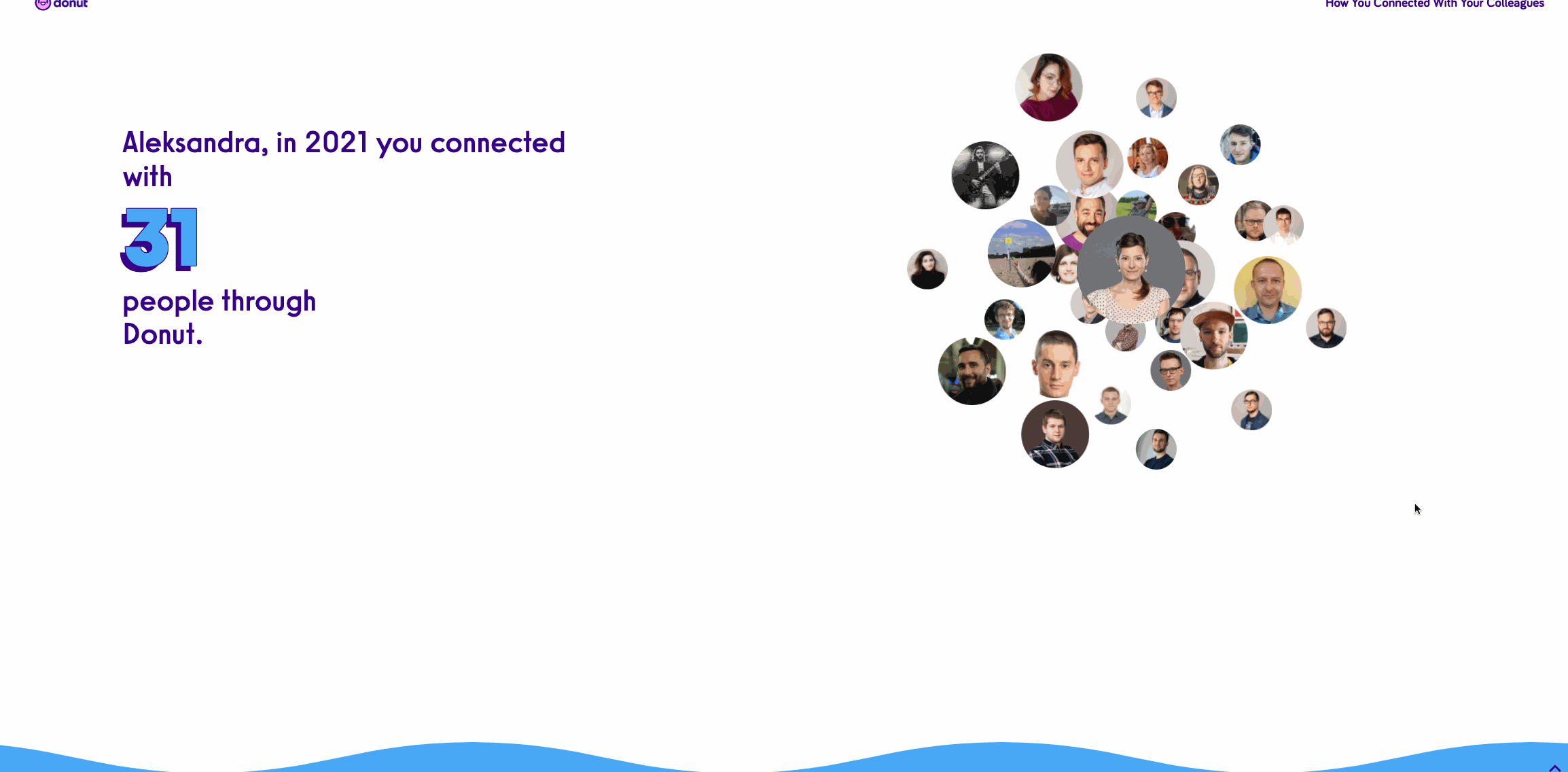 Part of the Donut Digested 2021 stats published by the Donut app
How to keep a remote team connected
We've always been diligently taking care of the need for connection as we believe that it's an essential part of a fully remote team. We've been organizing daily all-company online chats, monthly in-person retreats, annual family getaways, and more. Since the pandemic began, we started looking for new ways to help people integrate. Our goal was to enable a social interaction that would happen online, but also be meaningful at the same time. We wanted people to be able to get to know each other, even if they don't work in the same team, and even (or especially!) when they've just joined the company.
Tomek Dziurko, VP of Engineering:
"Someone from our team came across the Donut app and we saw it gives really great opportunities. We thought - why not give it a go, see how it works for 1-2 months and decide whether we want to have it or not. The feedback we received was really positive and that's how it joined an array of our culture hacks."
That's the story behind our new idea for remote team building that's based on the Donut app and could be used by any remote team that needs to help its members feel connected.
Weekly virtual coffee (with a donut)
So how does it work exactly? Technically, the donut app is connected with our Slack and has its own dedicated channel. Every Monday, it randomly groups people from different teams and starts a conversation. It looks like this: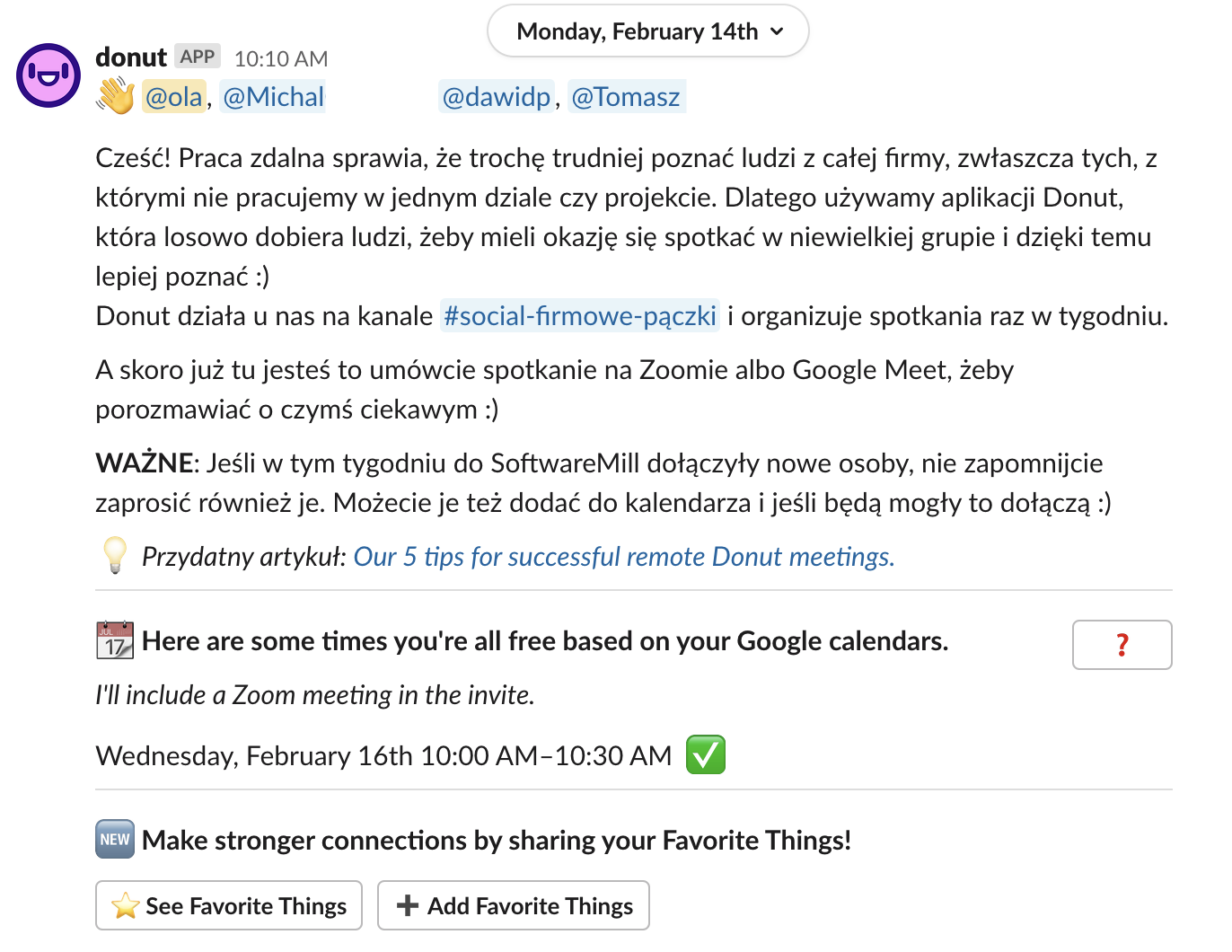 Screenshot from a conversation started by the Donut app on Slack
Here is the translation of the message shown above:
Hi! Working remotely makes it a little harder to get to know people from the company, especially those with whom we don't work in the same department or project. That's why we use the Donut app that randomly selects people so that they have a chance to meet in a small group and get to know each other better :)
Donut works for us on the #social-firm-donuts channel and organizes meetings once a week.
And while you're here, schedule a Zoom or Google Meet to talk about something interesting :)
IMPORTANT: If new people joined SoftwareMill this week, don't forget to invite them too. You can also add them to your calendar and if they can, they will join :)
Useful article: Our 5 tips for successful remote Donut meetings.
The app syncs our calendars and suggests available time slots for a 30-minute meeting. People schedule a zoom call and get prompted with some conversation starters. It's that simple! Where is the magic, you could ask?
These weekly meetings do their job because of three things:
1. Randomness - you get a chance to meet and get to know everyone from the team. Donut matches you with people from different teams that have different seniority levels, interests, and experience in the company. It makes the conversations really interesting.
2. Video - it's really important that the meetings are on zoom or another platform enabling video calls - you can see each other and get a chance to chat like you were having a conversation over a coffee in real life.
3. Frequency - it's the regularity of the meetings that turns them into a habit. Attending Donuts regularly makes people feel like they've met, at least on a basic level, the majority of their co-workers.
As you can see - it's quite simple, definitely not rocket science. Nevertheless, these simple factors make it quick and easy for our teammates to start or join Donut meetings and benefit from them.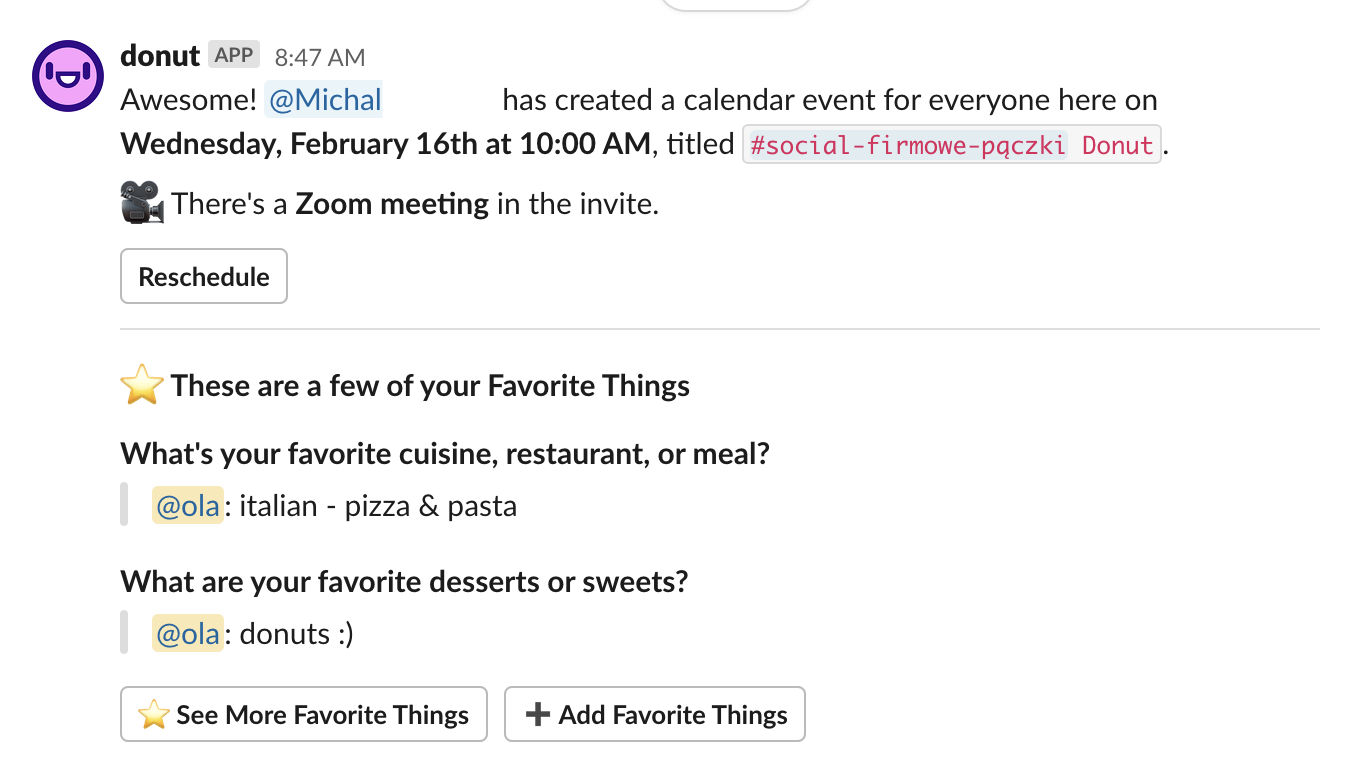 How our colleagues feel about Donut social interactions
We've run a short survey among our team to ask how they feel about donut meetings and here are some of their thoughts:
Why do you take part in donuts? What's in them for you?
"It's a great way to meet new people without having to leave the house."
"It gives me the opportunity to meet people with whom normally I wouldn't have a chance to talk. It also enables conversations in a smaller group and building relationships with people I already know."
What's the biggest challenge related to donuts?
"The most difficult thing is always finding a time slot that would work for everyone and in general starting the process of setting up a meeting."
"For me, it's the awkward silence that sometimes occurs and the difficulty of starting a new topic."
What's the biggest surprise about them?
"The algorithm that groups people together. Sometimes, I end up with the same person for a few weeks in a row."
"The fact that I always learn something new from them."
"To my surprise, I get a feeling that you remember less from these meetings compared to face-to-face meetings."
Ebook from SoftwareMill Team:
eBook Proven remote plays to organize and accelerate your team's work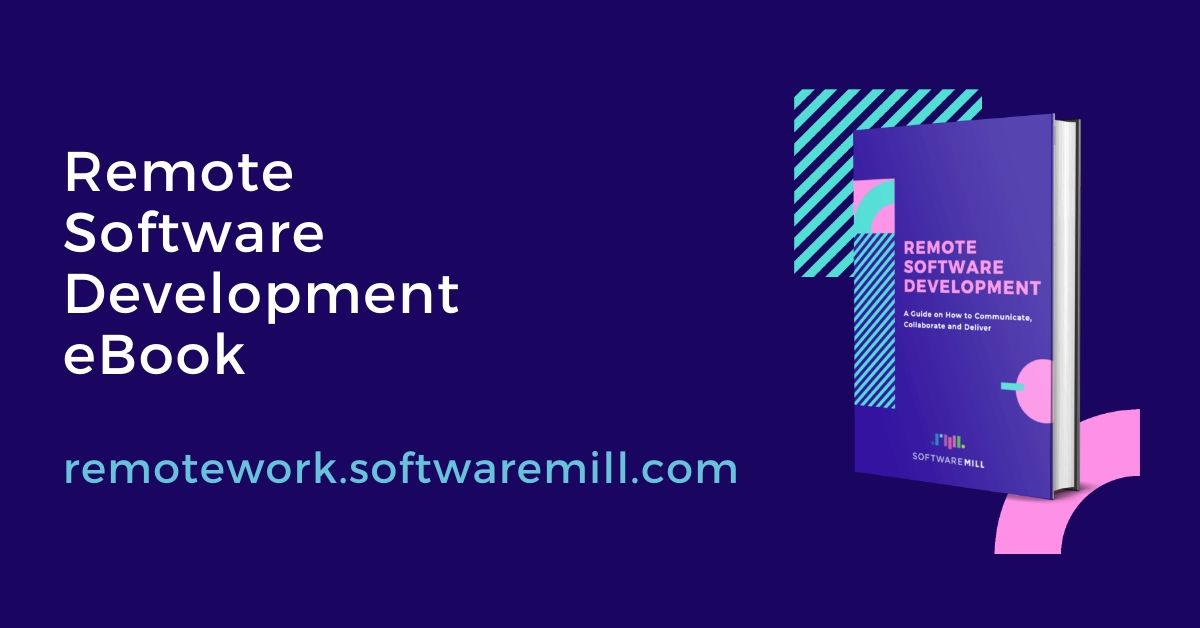 How do you start the conversation with people you barely know?
"I ask about their project - what they work on."
"Where are you from? Is usually a good starter. Everyone likes to talk about the place they come from and has something interesting to say about it."
"Sometimes I ask about something that caught my attention in their room. Once I've noticed roller-skates in my colleague's apartment and it was a great conversation starter about his hobby."
What's the most interesting story/thing you've heard?
"I've had a really interesting discussion about mindfulness during one of the donuts."
"I've heard a super interesting story from someone's youth times, but I promised not to tell anyone else about it ;)"
"One interesting discussion was about workshop tools. It turned out that our colleague works from a garage and behind his back and a curtain, there were hundreds of different tools he could talk about."
What's the difference between a donut and a conversation during the monthly retreat?
"Donut groups people randomly, while at the retreat, you tend to gravitate towards people you already know."
"I have to go out, drive or take a train to take part in a retreat, while donut lets me meet people without leaving the house."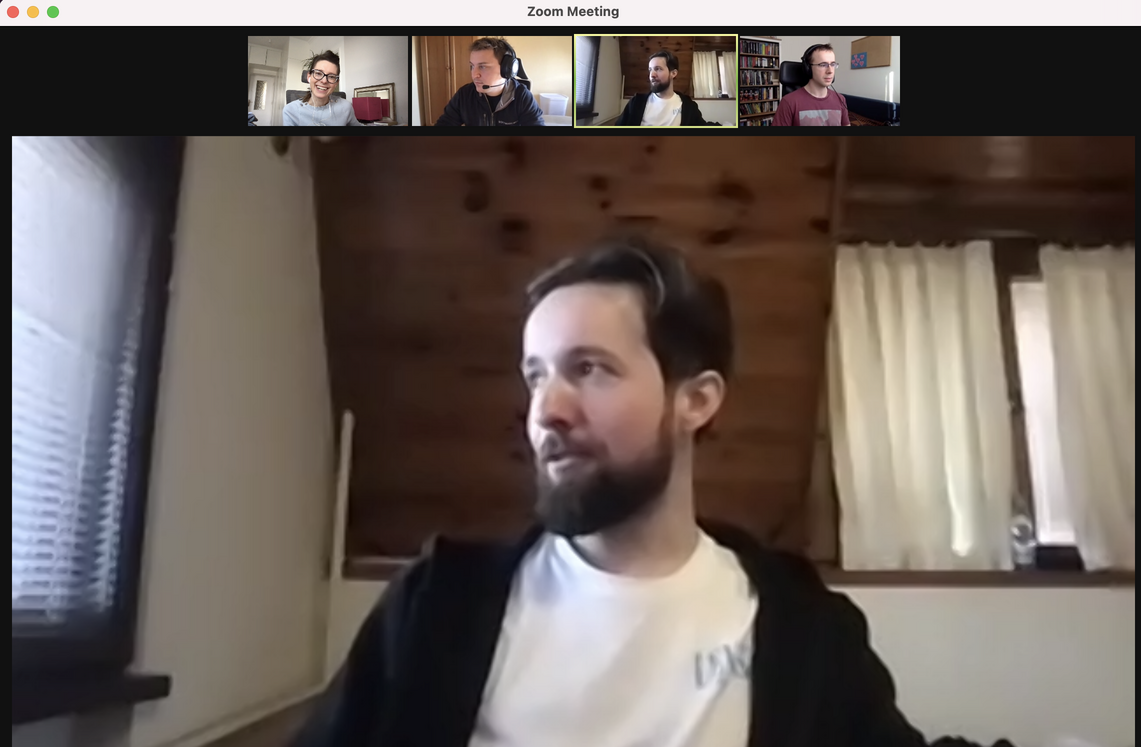 SoftwareMill's 2021 Donut Digested
The Donut App has published really interesting stats from how each organization used the app in 2021. Here are the findings about SoftwareMill: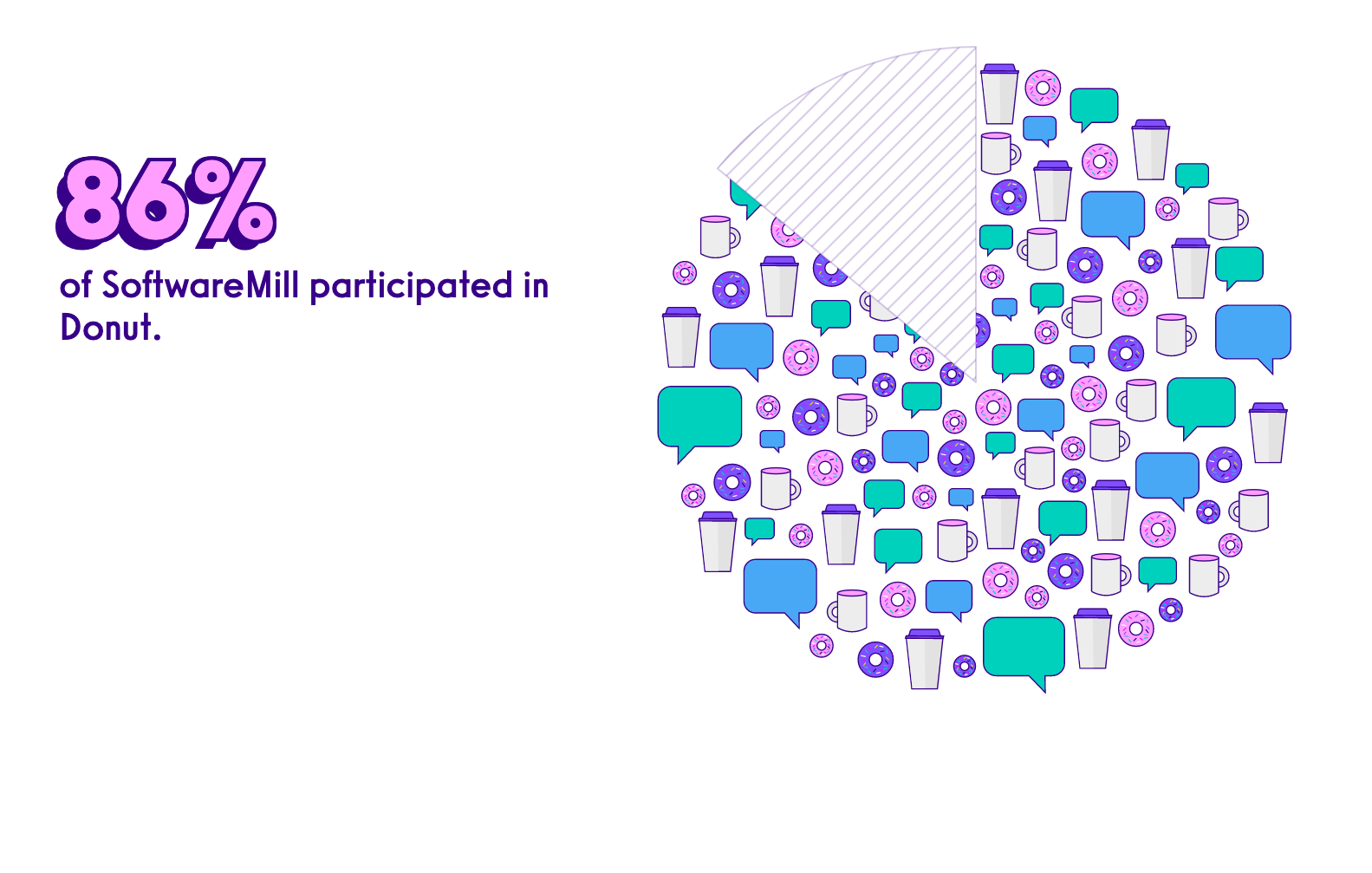 86% of our team took part in Donut, which seems to be a pretty high number. Especially when we compare the number of connections (how many times people met with other people) to organizations of similar size. It turns out that we've had 5 times more connections than similar companies during the same period of time.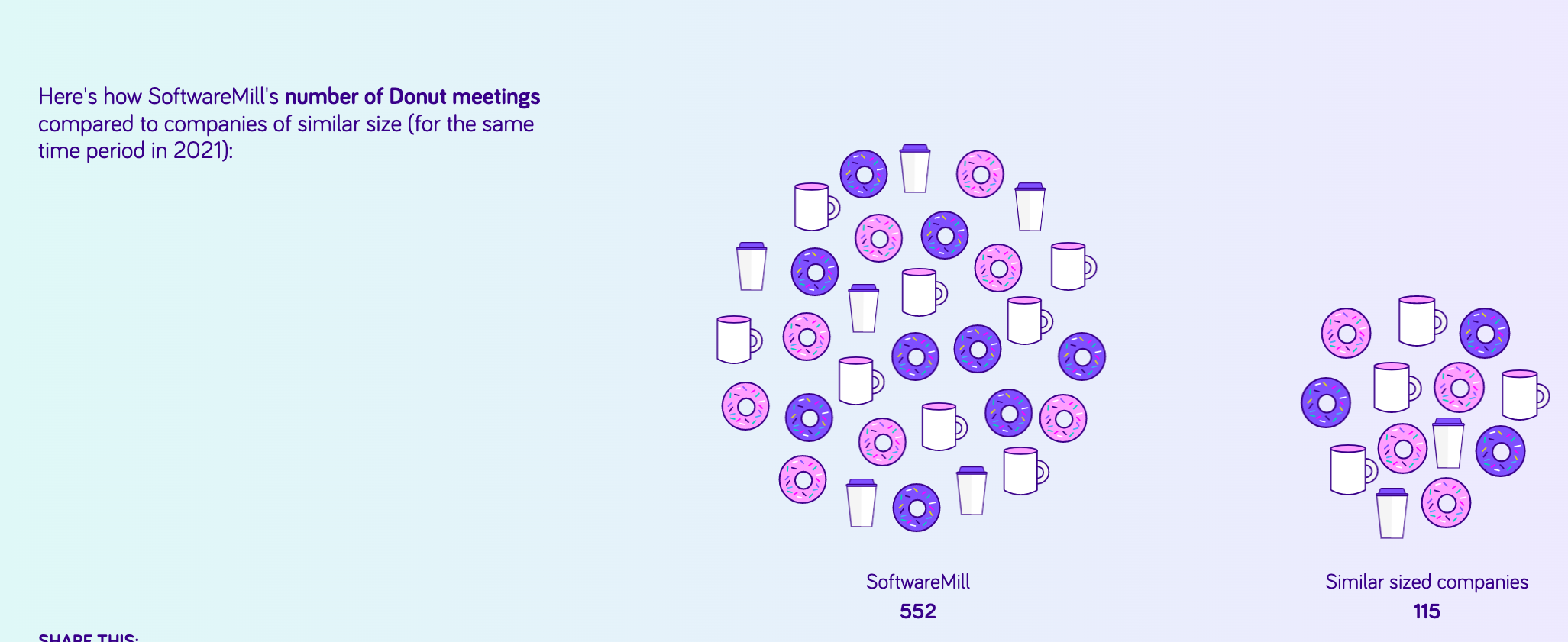 Comparing the number of connections in 2021 to 2020, it grew by 67% while the team grew by 17%.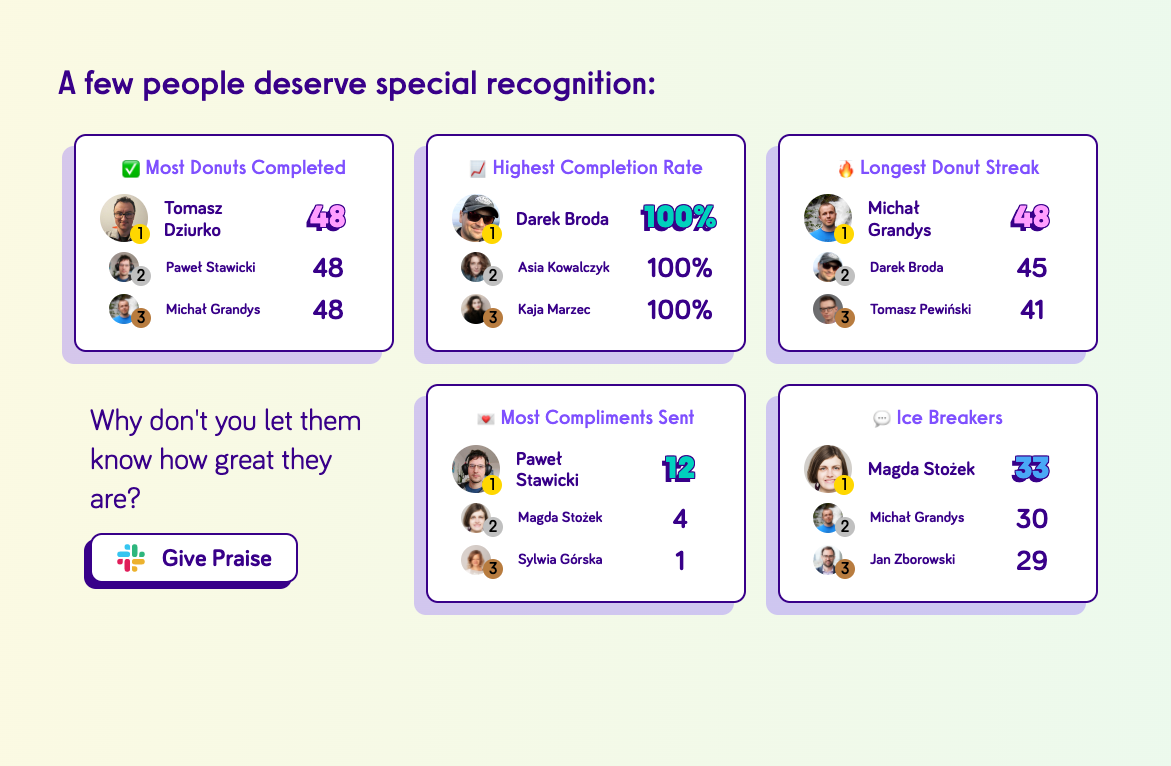 And finally, Donut Digested shows leaderboards with people who were most active and engaged in the meetings, which could be a nice trigger to say 'Thank you!" and recognize them :)
There are plenty of solutions that help people and companies connect online. Donut meetings are a true hack as they're relatively easy to implement and create ongoing opportunities for connections between all team members.
What are your culture hacks for building remote teams? We'd love to hear from you about tools, meetings, and habits that work for your team.
I'd like to thank our team members who shared their thoughts about Donuts with me: Tomasz Krawczyk, Michał Grandys, Bartłomiej Żyliński, Mariusz Walczyk, Michał Pierściński, Paweł Stawicki.