How to set up a home office — tips from a distributed team
How to create an efficient workspace at home using equipment that supports both your comfort of work and health? Check out the items that we use on a daily basis :)

Remote work has become a way of life for us at SoftwareMill because we've always wanted to attract talented individuals that are looking for something that goes beyond a typical office job. We went fully remote 12 years ago, from day one.
Working from home can be a dream or a struggle, definitely, it is not for everyone. Whether you chose WFH yourself, or it was enforced on you and is temporary, you probably wanna know what works and what doesn't when arranging comfortable home office space.
Advice from remote programmers
As befits programmers and tech enthusiasts, a group that always pioneered the work from home movement, we never had an office. Slack, Teamspeak, Zoom, and distant desktops are our reality. When a new person joins our team, they gain access to the know-how that we've collected throughout the years of working remotely in a fully distributed company.
There is real gold on our company wiki page that can help us make better choices from the very beginning. That is why I'm sharing our developers' tips on remote work equipment, gear, and productivity hacks. I am going to mention a few products we use daily. This is not a sponsored post, but an opinion on the items that we tested and recommend.
How to set up a home office
For a brief moment maybe you thought that working from home would mean lying on a sofa in your sweatpants? Nothing more wrong. The right work from home setup makes you more productive and comfortable. And the best reason to make an effort and choose good equipment is your health.
While converting a comfort-focused home into an ergonomic workspace is a challenge, and productivity is one of the biggest issues for most employees new to working from home. Creating your own work from home space is the first step to kick-off your life outside the office.
Desks and chairs for working at home
A workstation starts with a good desk and a comfortable, ergonomic chair.
When looking for a desk, take into account how much working surface you will need and make sure the desk has a wire management grommet so that you won't get tangled in your cables. A drawer and a floating shelf above your desk are nice and handy in the long run. I noticed that a desk at standing working height is a more and more common choice of experienced remote workers. A standing desk or one that you can convert into a standing desk so that you're not sitting all day.
If you're a professional who doesn't have much room for a big desk, I have two hacks for you:
convert your wardrobe into a standing desk and use it during online meetings or when you're reading or researching.
get a home treadmill that you can use with some sort of standing surface. There are models that are conveniently sized and equipped with features that help you work out and break these long hours of sitting.
When it comes to selecting chairs, ergonomy is the key. Even if you have just a small corner dedicated to your workspace, forget about using an armchair just because it looks nice. Depending on the budget, look for an office chair, ergonomic chair, gaming chair, or a gym ball to enforce the right posture.
And here are a few items our team is using now.
Desks
Tomasz Dziurko, our VPE, is using two external 27'' monitors, so he has the largest model from Varidesk adjustable standing desks. "The whole setup is very stable (Varidesk is so heavy for a reason), its height is adjustable (11 different positions). I can still use my old desk and its drawers to store stuff, which is a plus. Additionally, it looks really impressive in a standing mode." Here's a full review on Tomek's blog.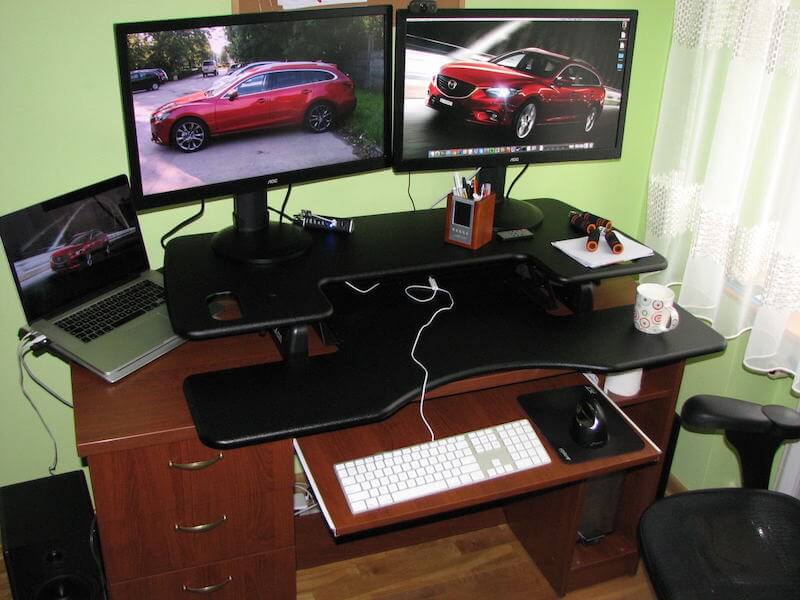 When you really like the idea of standing desks but you have a limited budget, an Ikea standing desk Skarsta is budget-friendly and comes with two options: a crank handle or an electric motor.
"After reading "Deskbound" and reading up on the topic, I knew a standing-sitting desk is a must. This model from Ikea is a desk that didn't cost me a fortune but enables me to spend a part of my workday standing. I don't mind that I need to use a crank handle to move it up or down — that's an extra piece of exercise ;)", says Magda Stożek, s Scala Developer.
Chair
Sitting for seversal hours a day can put on a strain on your body. "Diablo v-master is an ergonomic chair with adjustable backrest, height and seating position. I chose it, because it is a budget-friendly version of Ergohuman chairs." - says Sebastian Rabiej, Scala Developer.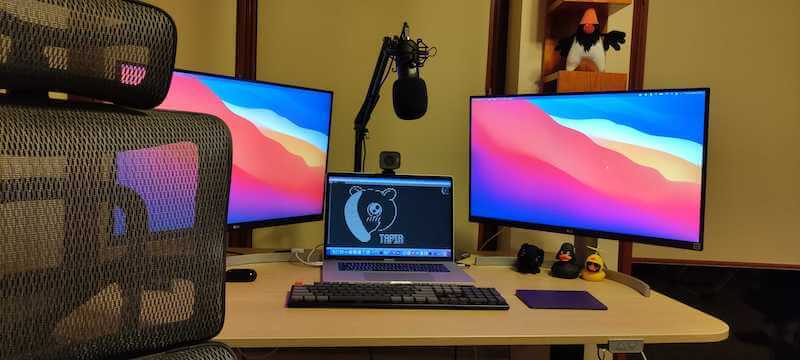 Treadmill
Lastly, Marcin Baraniecki, our Frontend Developer, recommends a walking treadmill to break out a sitting routine during work hours. "Mine folds in half, so I can always put it under my desk, and it has a remote control, which is very convenient. I can't run on it, its maximum speed is 3 km/h, but it is completely fine and does the job for me. My cat loves it too and uses it as a sunbathing pad ;) ".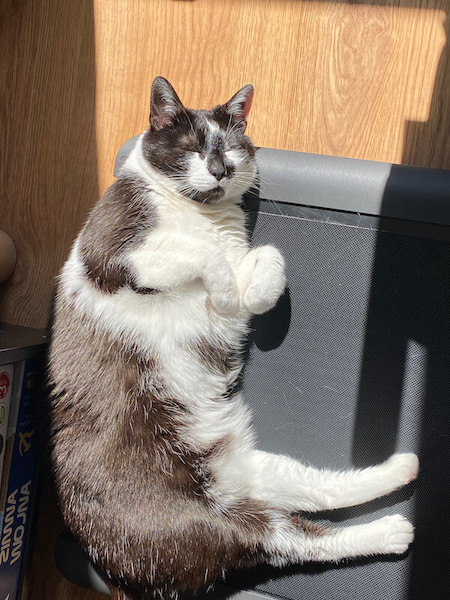 Computer programming workstation
Before I even start on the hardware, your number one priority is a stable internet connection with good capacity — without it, your work can be simply impossible.
I'm assuming you have a laptop or desktop of some kind already. Therefore I will not go and recommend specific computers, as the preferences and needs vary greatly depending on the type of job you're doing.
In our programming world, we have a pretty good mix of Mac fans, Windows users, and Linux enthusiasts, so if you already know what you're after, I am happy to share our exp and we can open a discussion in the comments.
What I, however, can recommend right away are basic minimum requirements.
Those would be:
at least 32GB RAM,
a CPU with at least 4-8 physical cores
and a 2.5Ghz base speed,
and, of course, a decently modern SSD with at least 512 GB of storage for running your system and compiling your code.
The CPU core count, and especially the amount of RAM is crucial if you're running any amount of VMs or containers, as is often standard in contemporary software development. Also, a graphic card that our machine learning team is using for their magic is a nice thing to have – although, sadly, decent ones are extremely hard to come by, what with the boom for crypto mining and the general world situation. Luckily, for starting out with deep learning 8GBs of VRAM should be sufficient - however, as you're getting more ambitious with your models, 12GB can become the bare minimum just for experimenting alone.
Mikołaj Koziarkiewicz, ML Engineer, is personally a returning fan of desktops, after swearing by laptops for many years: "what's lost in portability is regained with interest in computing power, hardware economy, and comfort. There's no way for a true laptop to be as quiet as a desktop running at full power — it's just physics. Additionally, desktops offer upgrade options that are not only cheaper than laptops but also simply unfeasible for the latter. This applies not only for GPUs and RAM but also for CPUs — there's nothing like running a data preprocessing task on 20+ cores merrily calculating along."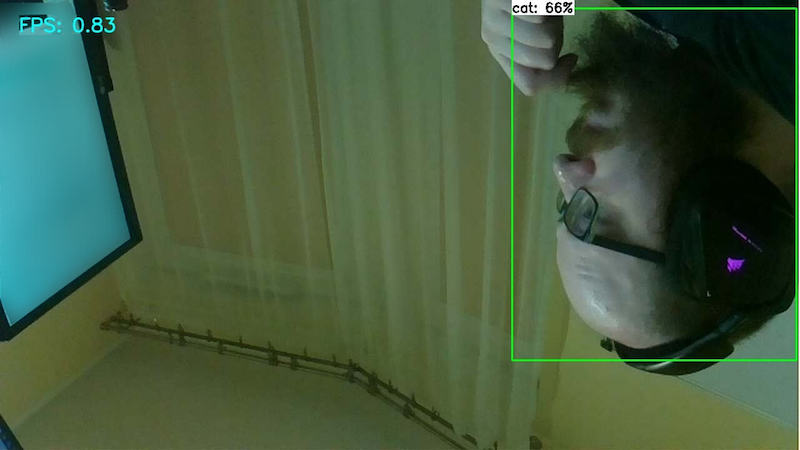 Monitor, keyboard, and mouse
Peripheral devices are just as important and getting the right bit of kit here is crucial. The market is super diverse, so I picked a few items we're using and will explain why we like them.
Mouse
"I picked the Logitech MX Vertical mouse because after so many years of using the traditional mouse, I started worrying about my wrists' condition." - says Marcin Kubala, our Senior Scala Enginner.
Vertical mouses in general provide better ergonomy and reduce the pressure on the median nerve, which might lead to carpal tunnel syndrome. The mouse provides decent grip and additional buttons that can be personalized, which is a good enough replacement for touchpad gestures. This particular mouse integrates very well with (traditional, therefore not so ergonomic, though) MX Keys keyboard of the same brand, enabling more features and ways for customization.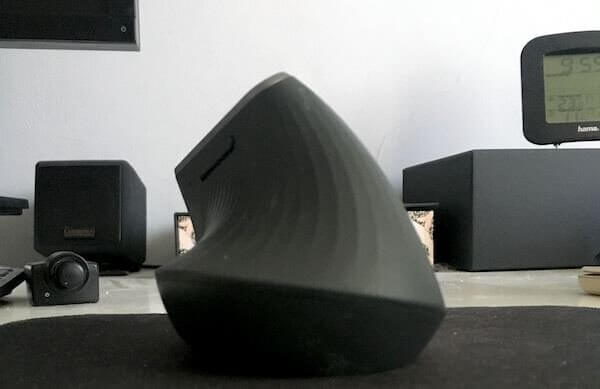 Keyboards
Here's one of the keyboards we like. It is great because it works under Windows, Linux, and MacOS. This model, Keychron K2, is mechanical and gives a better feel when writing than the built-in MacBook keyboard. You can connect it both with a cable and via Bluetooth to two computers and then use a mechanical switch to switch between the two. Adam Pietrzykowski, our Devops Engineer, adds: "I also love it because of its cool colours!" :D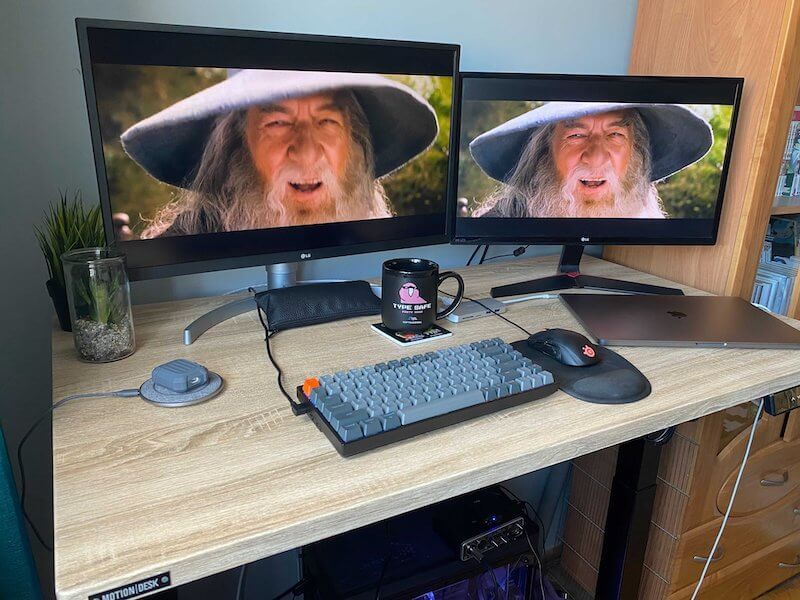 The other keyboard set that Magda Stożek enjoys is Microsoft Sculpt Ergonomic Desktop.
"It's wireless, so it doesn't add any cable clutter to my desk. It's got an ergonomic shape, and comes together with a vertical mouse — you need one dongle to plug in both. It takes a bit of time to get used to the ergonomic layout at first, but after that, I'm back to my normal touch typing speed :) The numeric part of the keyboard is separate, which means you can put it somewhere else on your desk, and keep the mouse a bit closer to your hands, which is nice, as I use the mouse more often than the numeric keyboard."
Monitors
When it comes to monitors, although most modern operating systems give you multiple virtual workspaces/desktops, a multi-display setup can still have some advantages.
"In my configuration, I'm using the main display mainly for the IDE, which I focus on most of the time. The laptop screen usually serves as a place for the terminal or other side tools. The vertically-oriented display is a recent addition, which I find particularly useful for reviewing pull requests and reading docs - since it allows you to scan a larger part of a webpage or a PDF without scrolling, and therefore see a broader context instantly." - says Jacek Kunicki, one of our Senior Scala Developers.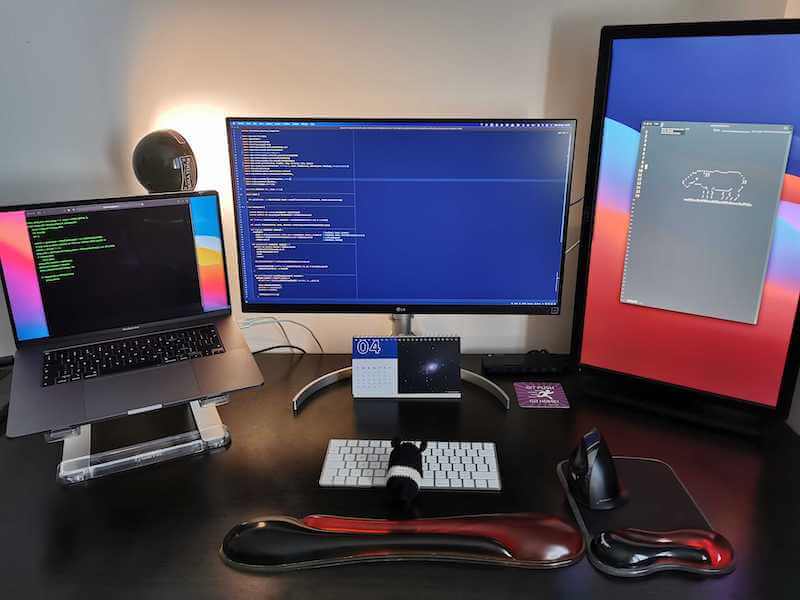 Best gear for online meetings
We do a lot of online meetings! And a lot of them are now team-building online activities since we had to resign from meeting IRL in 2020. Here is how we're staying connected and improving teamwork remotely, what tools, activities, and games we recommend.
During those meetings, and all the other online events, headphones are a must.
Headphones
If you are all set to purchase a new set, keep in mind:
that wireless headphones are best for remote work because you can freely walk around
you will need enough battery life to provide comfort of use without too frequent charges
it's best to opt for a model with noise-cancellation or at least noise-isolation
comfort is important, if possible, try the headphones set out before purchasing
Here's a wireless headset Tomek Dziurko chose.
"I am a big fan of large headsets. They have soft ear cushions I really like because my meetings tend to last longer than 1-2 hours per day. With HyperX Cloud Flight I feel comfortable even after long meetings, no sweaty and tired ears. Another great feature is the lack of cable, it is convenient, I can go and grab something to drink or eat without leaving the meeting. And the last thing, battery durability is really good. I don't need to charge headphones for a few days and they work just fine."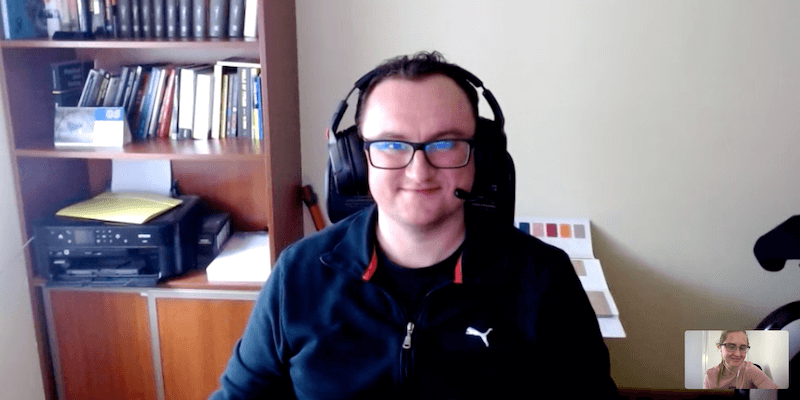 When you hear others, let them hear (and see) you, so let's talk about the camera and microphone.
Camera and microphone
In some cases, the laptop's built-in camera and microphone are not the best, but they will definitely do the job and enable you to take part in the internal online meetings. However, when you want to come across as professionally as possible, on a webinar or an online event, invest in a standalone webcam and stereo microphone with noise cancellation.
Here are very pro camera and mic, my colleague recommends, these models are great also for gaming ;)
External cameras can come in different varieties. The most common ones are simple USB webcams which you just plug in and they're ready to use. There are a few notable models such as Logitech C920 Pro or Logitech Streamcam.
"However, if your goal is to have the best possible picture quality, you should consider a DSLR camera with HDMI out." - says Piotr Buda, our Scala and Blockchain Developer.
"Besides working with SoftwareMill on excellent projects, I also stream on Twitch here, so I opted for a Sony A6000 mirrorless camera with 35mm f1/4 lens. To connect it to your computer, you need a special interface with HDMI input, such as Elgato Cam Link 4k. Why this setup? It gives perfect image quality and the f1/4 lens provides decreased depth of field blurring the background without need for glitchy filters."
There are many different types of microphones that you can use, but it all depends on the environment you work in. In general we can divide microphones into two groups: condenser and dynamic mics. Condenser microphones are more sensitive and capture a high range of frequencies. They work perfectly in a quiet environment, like recording studios or sound isolated rooms. Dynamic microphones are generally used to capture louder sounds in loud environments (think stage) but because of that they are also excellent for a noisy setup in a living room.
Piotr's personal choice is Samson Q2U microphone - "It's a dynamic microphone which also captures sound mostly from the front of itself. It also features two interfaces: you can just plug it in via USB and start using it immediately, but if you want some more advanced setup it also offers XLR output (cable is included). For that though you also need an audio interface. I used Behringer 204HD for a long time but I then switched to TC-Helikon Go XLR for more features such as a built in mixer and several audio inputs/outputs."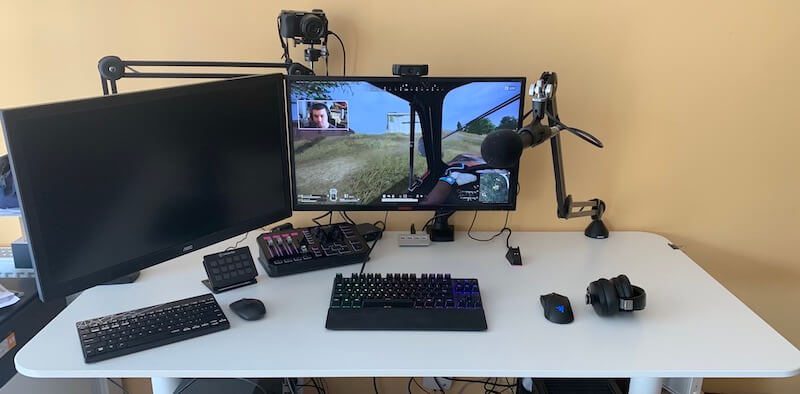 Other gadgets that help us in daily remote work
We're tech enthusiasts and we like gadgets. They also come in handy in our everyday remote work and when we're busy with our hobbies.
Adam Warski often uses iPad and Apple Pencil to add visual value to his tech and Scala programming blogs.
"A picture is worth a thousand words (sometimes), hence as I'm occasionally working on a blog post, drawing diagrams or illustrations logic flows is often a necessity. I've tried many tools, but for now, I've settled with an iPad, the Apple Pencil & the Paper app. Even if you do not have a lot of (or any) artistic skills, using those, you can create at least decently-looking drawings. Using a pencil is far better suited for this task than fingers (which are too large) or mouse (hard to make precise movements; also the actual drawing is then displayed far away from your hand). This, combined with a good choice of stencils, colors, shapes, and automatic correction, provide a good basis for enriching your text with visual aids."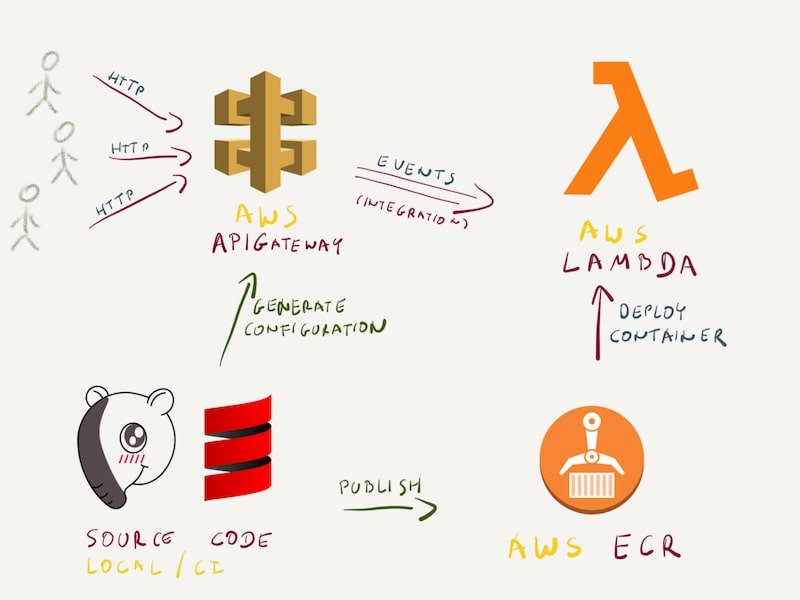 If you organise a variety of internal meetings where you share knowledge internally, having a good ebook reader is a plus. We have Soft Skills or Tech Skill Reading Clubs and Software Architecture Discussion Group (here we share more details on how the meeting formula works). At these meetings, we often discuss a book we chose to asynchronously read together. Thus we tested quite a selection of e-readers, one of the coolest is the Kindle series.
"I was a proud owner of an old, large Kindle DX, but around a year ago, I upgraded to the latest Kindle Paperwhite and I am not looking back." - says Tomasz, our VPE. "Maybe the screen is smaller, but with higher resolution and built-in adjustable light, I conveniently read at night in bed. Synchronization with Amazon and Kindle mobile applications is a plus. It lets me read even if I forget to take the device with me."
During online meetings, we also often take notes. We use Zoom screen share or Miro to do them as a group, but if you are a person who enjoys taking notes yourself, Iwona recommends Onyx Boox Note. "I understand your love for paper-notes — I love them too. But since I transformed my home office into a paperless-still-home-office, I discovered that I can manage notes in a better way. The digital note-taking device I use syncs with the cloud, so I can access my notes on all devices or send them to my team members. I also recommend it because it has an anti-glare, e-paper surface to draw on and AI support to change your handwriting hieroglyphs into Verdana style."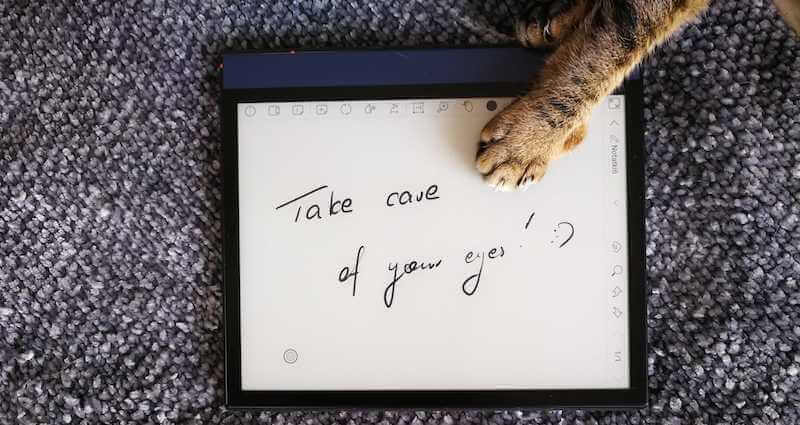 The last two gadgets I mention help members of our distributed team stay healthy and creative!
We have a monthly sports challenge where we compete in how many hours we spent working out. To track it, we use different wristbands and sports watches. Over a dozen SoftwareMillers opted for various Garmin models, including myself. These sports watches have awesome battery life, good sensors, and accurate fitness tracking. It covers almost every activity, like hiking, walking, running, swimming or fitness, yoga and meditation, that we track in our challenge.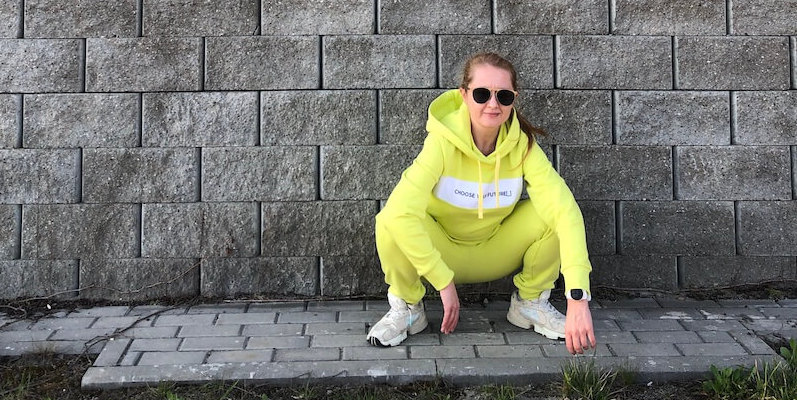 And for the creative boost, especially if you like drawing, we recommend trying AxiDraw! Kuba Antolak, Frontend Developer, creates generative artworks, which are then drawn on paper with the help of the AxiDraw pen plotter. This machine allows not only to experiment with colors and shapes on the screen, but also with all sorts of pens, inks, and paints on a sheet.
"AxiDraw extends the space for artistic experiments", he says. "Having a digital artwork on a physical medium gives a sense of reality to it. It also makes each creation's print unique, as you never know where the paint is going to accidentally drop or what effect you will achieve when using a specific color on some kind of paper. Things on the screen are only a prediction of what is going to happen in the real world". Check out his art on Instagram.
4 tips to create a healthy WFH space
Choosing your gear is one thing, the other thing is creating healthy habits. This is what we've learned when it comes to making remote work free of unnecessary headaches.
1. Identify a good place for your workspace
Choose a location of your WFH office with this in mind: you want to create boundaries that separate your workspace from your home life. Not everyone can afford to designate a dedicated room for a workspace at home, but if you can do it, do it. Such a solution will make you and your family understand that you being at work doesn't mean being at home and vice versa. This balance is extremely important and influences both your productivity and ability to focus, as well as your mental health.
When a separate room is not an option, you can set up a home workspace using a spare corner, and make it a place just for work. In both cases, make an effort to put together a functional and visually appealing workspace that feels really yours, that's also such an amazing perk of WFH, right? Add personal touches, make sure you surround yourself with things that give you a productivity boost and are essential to your daily tasks.
2. Take care of good lighting
Good lighting is not something that first comes to mind when setting up a workspace at home. But it is super important. To provide the best conditions for your health, use natural light because it reduces stress and minimizes eye strain. When choosing your lighting sources, it's best to place your desk near a window or use overhead lighting. This way, you'll avoid hurting your eyes by glare reflecting off your monitor.
Another thing is the color temperature of your monitor. It should be dynamic - getting warmer (i.e. reducing the amount of blue light) when the sun sets and colder during the day. MacOS has a built-in feature Night Shift, but if you're working on other OS, I recommend checking out these tools: f.lux and redshift.
3. Avoid distractions
WFH is free of distractions of water-cooler conversations and office politics, finally you can focus on the tasks at hand! Oh really? Remote work distraction is very real. The noise coming from traffic or renovations is one of most common interruptions. The best way to deal with it is to get a good set of headphones or talk politely with your neighbours. Also, at the beginning, it might be hard to say "no!" to your family or flatmates when they demand attention. It requires setting up boundaries and discussing the new routine together.
What about other distractions like digital noise or domestic temptations? As simple as it sounds, they require you to introduce the right discipline and structure. We believe that liking what you do makes you immune to distractions, wherever they may come from.
4. Take breaks
It may feel hard to find time to take a break as we misinterpret it as something counterproductive. Taking breaks is actually beneficial and prevents us from burning out. If you struggle with taking breaks, try scheduling them. I asked around my colleagues and they sometimes find it hard to get back and focus after the break. It's good to figure out for yourself how much time you will need to reset your mind but also be comfortable in getting back into your working mode. For me personally, 20 minutes works best.
There is also another remote work feature which can be improved by taking breaks — the meeting fever. Having a meeting block with no breaks triggers our brain to show higher levels of beta waves, which are associated with stress, anxiety, and concentration. On top of online meetings at work, you might also have additional ones like online classes, online coffee with friends or online conferences. Last year taught me, and probably many of you as well, that even a short break between online meetings is priceless. It's a chance to close one and open another meeting "in my head". This helps me minimize Zoom fatigue, maybe it will help you too.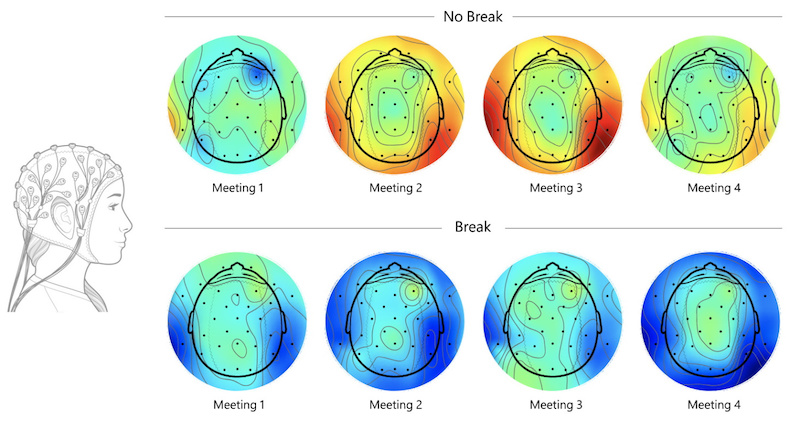 Image Credits: Microsoft/Brown Bird design @techcrunch
Wrap up
Not everyone prizes remote work, of course. But when the office work returns, more people than ever before will continue to work remotely, either all or part of the time. A remote company can still have a presence in employees' hearts, and we believe we're living proof of that!
Before you go, take a look at how we enjoyed the kind of freedom and flexibility — the ability to work when and where we wanted to — before the pandemic.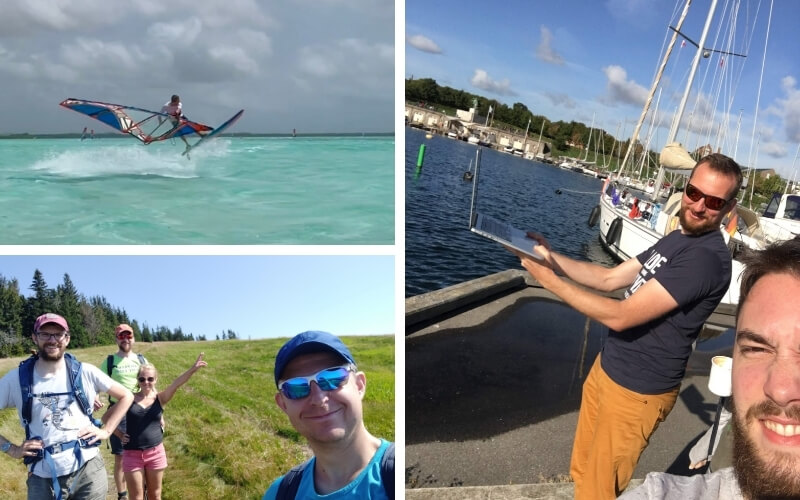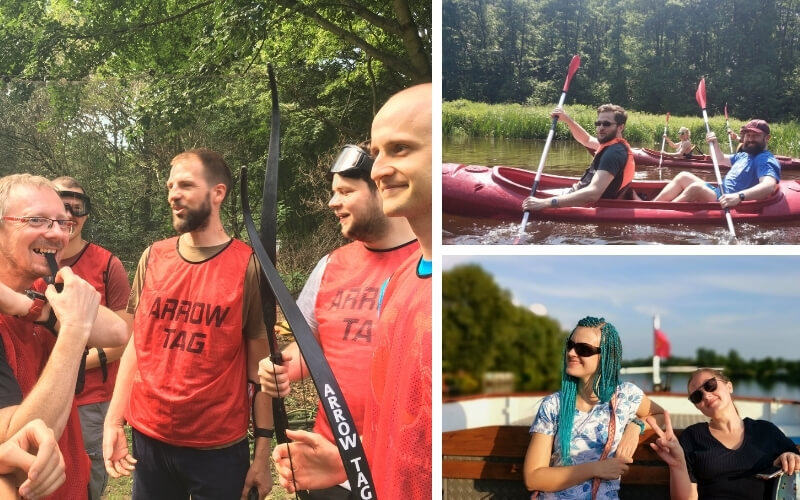 Do you like our vibe and want to join our remote team? Let's talk!