IT trends to watch in 2022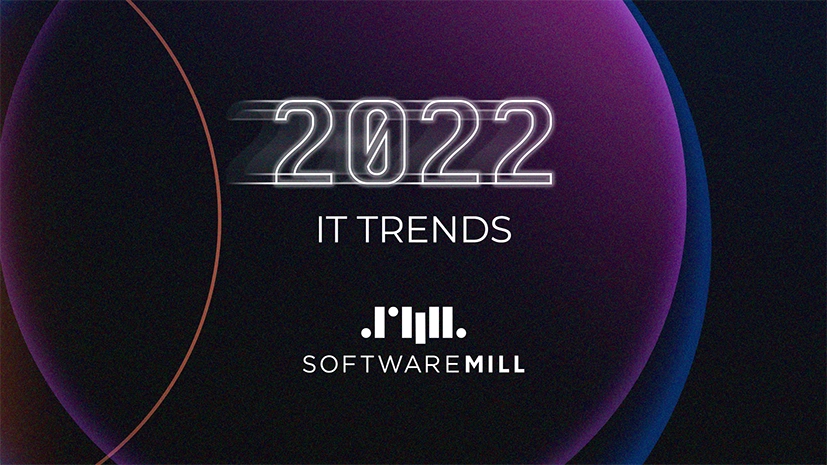 In 2020, YouTube has resigned from making their annual 2020 rewind, because 2020 was just too much. We wrote about it in our last year's tech trends digest. Recently, the company decided to shut down the whole format. Does it mean 2021 was even worse? And what does the future hold?
Let's see what interesting events happened in the space of top technologies, research, and new breakthroughs in 2021. Our engineers love and use new technologies daily and don't shy away from sharing their opinions about tech trends. Here it is: our technology trends digest powered with a dash of engineering approach!
I wrote this post with Maria Wachal, our tech evangelist. Have a great read and Happy 2022!
Big Data, Artificial Intelligence, and commercial Quantum Computing
Big Data growth continues. 2021 was a year of important software releases. We got Apache Cassandra 4.0 and Apache Kafka 3.0. What is more, Datastax acquired Kesque, an organisation behind Pulsar. As a result, Datastax now offers Astra Streaming being Pulsar in a Streaming-as-a-Service form.
When it comes to Machine Learning, a lot has happened lately that will be developed further in 2022. First of all, as ML becomes more widespread, we're seeing more advanced deep fakes. Last year, we saw a lot of realistic Tom Cruise videos on TikTok that appeared to be fake. People get concerned about this technology because it's too realistic.
Edge computing technology trend continues. It is important to analyse not only huge datasets, but "small data" as well. TinyML supports that by creating Machine Learning models that can work on smaller, low-powered devices where resources are limited.
Also, AutoML - an attempt to make machine learning easier and more accessible for non-ML people - was born. The approach is already available among cloud providers. Users can take advantage of ready-made solutions for use cases such as computer vision, demand forecasting, intelligent search, and industrial and healthcare verticals.
Do you remember the CSI Miami scenes where they zoom and zoom images and still get good quality photos? It may not be possible exactly as seen on the show, but we got a bit of such magic with "Image Super-Resolution via Iterative Refinement". Super resolution is the process of upscaling and or improving the details within an image. Here you can watch how it works:
Image processing is one thing, AI models are capable of writing as well. In 2020, an MIT student made an experiment with usage of OpenAI and GPT-3. He published plenty of fake articles written by GPT-3. The results were quite shocking since nobody even suspected they weren't written by a human. In 2o21, OpenAI's GPT-3 is now available to the public without any waitlist and will be for sure leveraged in 2022.
Quantum computing is still developing. We've seen the first quantum computer with 100 qubits! What is more, Microsoft plans to include Quantum services in their Azure offering in the first quarter of 2022. Commercial quantum computing comes within reach!
Lastly, do you remember how last year DeepMind helped with the protein folding challenge? This year, we saw its influence on pure mathematics, guiding mathematicians to new discoveries. We are looking forward to seeing what they have for us for 2022.
Cybersecurity becomes a challenge, again
Some of you may recall the Garmin outage in 2020. Or the hack of the cybersecurity company FireEye. Those events sound "small" compared to what 2021 prepared for us.
Log4Shell is a very serious zero-day vulnerability in the Log4j library used for logging on the JVM. The vulnerable part was a Log4j feature most people were not aware of. We don't know yet how bad it was for the industry, we only know it affected thousands of companies and as soon as it was announced, numerous systems were "scanned" in attempts to inject exploits.
2021 was also a year of big data leaks. Facebook - personal data of 533 million users, LinkedIn - 700 million, and Cognyte with 5 billion records.
We hope that 2022 will be better than two previous years. The only sure thing is that companies will be investing more into security training, DevSecOps and solutions that help avoid breaches and become immune to library zero-days. 2022 may be also a year of slimming down project dependencies. Log4j offers a huge amount of features, but most people do not need them. New simpler - and thus potentially less vulnerable - solutions may gain popularity.
Privacy-Enhancing Computation
Cybersecurity attacks and the increasing importance of privacy may lead to the decrease of trust in cloud computing and related services. Just sending data "outside" may be an unacceptable risk. Privacy-enhancing technologies focus on keeping data safe and private.
Let's say you want to perform a simple word count on your data. Do you need to send all of it directly to the cloud? Not really. It may be enough to hash/encrypt words, operate on those hashes in the cloud, and later de-hash results locally. If you'd like to learn more about such a technique, read about Homomorphic encryption.
There are, of course, other related methods, like Zero-knowledge proof, sometimes mentioned in the context of blockchain technology - a way to verify whether a party knows some value without passing it.

Emerging technologies in pandemic times
The pandemic has changed the tech industry. It drove a dramatic acceleration in the use of cloud technology, advances in hardware and connectivity, and also introduced tough competition among IT organisations. The size of technology adoption we've witnessed in 2021, especially in ecommerce and logistics, could be compared to what the world has seen in the span of the last decade.
Especially interesting tech news of 2021 were:
In 2022, technologies will be embedded in our daily lives even on a bigger scale. When it comes to software products, manufacturers and software developers will need to focus on better software quality standards and take into account security threats. For example, let's take a look at Zoom: it rose to prominence during COVID-19, but in 2021, it has been criticised for critical vulnerabilities in its security protocols.
There is still a need for more reliable, scalable software to facilitate communication and collaboration. In many industries, customers have moved toward online channels and businesses responded to it with new business models and going digital first.
If a given company does not make data-driven decisions yet, it will be in the future. Business needs data analytics and some level of automation to derive the right business insights. The IT sector plays an important role in coping with such challenges of digital transformation. Naturally, a priority for CXOs in 2022 will be to find a reliable tech partner.
Sustainable Energy Solutions
The COP26 summit, 26th UN Climate Change Conference, was one of the most important environment-related conferences in recent years. Associated countries put increased focus on topics of greenhouse gases, coal and renewable energy sources. 2021 was also a year of the rising inflation and energy costs in many countries. Both countries and specific companies are presenting their plans on becoming carbon neutral or carbon negative.
At the same time, we've encountered a global chip shortage affecting various industries. Some people can't get their new cars because delivery dates are being postponed and postponed. Countries are discussing the electronics right to repair.
What is more, 2021 was a year of public blockchain & cryptocurrencies growth. 21 people from Forbes 30 under 30 are related to the crypto industry. This brings a lot of public discussion about the amount of leveraged energy and its source. Fossil fuel power plants are reopened just to mine Bitcoin.
We think that all those events may slowly change the industry and people's behaviour. Do you need a whole new iPhone or maybe just fixing the old one would be enough? Maybe you don't need to replace your old laptop, just a new motherboard would be sufficient, like in this ThinkPad related project? Dell has shown a concept of sustainable PC to reduce product carbon footprint. Microsoft suggests that just moving to Cloud and serverless can be beneficial as well.
What about cryptocurrencies? 2022 may be a big year for PoS (Proof-of-Stake) technology and Ethereum 2.0. Migration is planned for 2022 and it is estimated that PoW (Proof-of-Work) to PoS change will make it use ~99.95% less energy!
What are the IT trends to watch in 2022? @softwaremill technology trends digest with a dash of engineering approach is here!
Click to tweet
Tech trends driven by connectivity
Far-greater network availability and capability will drive broad shifts in the business landscape in 2022. Growing 5G adoption will open doors for new services that serve customers in the internet economy.
Consequently, faster digital connections powered by 5G technology and the Internet of Things technologies will be something we will see more of in 2022. What is still a challenge is a digital gap between urban and rural areas when it comes to connectivity. Improvements in global connectivity will be a priority in 2022 as the post-COVID reality highlights the need for online education, telehealth, remote work, and social connectivity.
To help drive rapid, positive advances in wireless technologies including 5G, IEEE SA has launched an Open RAN program that focuses on 5G standardisation, industry engagement, education, publications, testbed, and roadmap activities. This is an open source solution, and in the last few years, we've been seeing more and more open source solutions leveraged to deliver value.
At the same time, Elon Musk's SpaceX hopes to obtain a commercial permit at the latest by January 31, 2022 to launch its Starlink satellite broadband services in India next year that brings fast internet to rural areas.
5G also has a higher capability of connecting numerous end user devices, compared to 4G / LTE. This is why more and more Internet of Things solutions will be helping accommodate the rapid growth of urban demographics. Approximately 55% of the world's population lives in cities and this number is expected to increase. We will see more smart cities starting to emerge. Ericsson predicts that by 2022, there will be around 29 billion of these devices connected to the internet globally.
Hybrid work policies
While work from home is not a dream scenario for everyone, the majority of employees don't want to go back to the office. 2021 has changed the expectations and the hybrid work model went from nice-to-have to a must-have. Given this, investing in remote infrastructure will be an even bigger priority in 2022.
Many companies, including Twitter, Facebook, Adobe, Microsoft, and Upwork, permanently adopted a remote-first model or allowed employees to continue working from home fully or to some extent. Be flexible. This is a motto that Microsoft adopted in 2021 after office re-openings. 2022 will be the year where modern workplaces will start to spread. We will need better models to provide better employee experience.
What's important for CXOs and technology executives is to realise that a good hybrid work policy is something more than just saying that employees are allowed to work from home on given days of the week. This video from Microsoft is an interesting sneak peek into how this tech giant reimagines the workplace for a hybrid mode. You can witness focus rooms, hybrid teams working across different time zones, and spaces that promote collaboration.
The Metaverse is here
This time, it will catch on for sure! 2021 embraced the new, remote, ways of doing things. Facebook rebranded itself as Meta and introduced Metaverse. Is this an innovation the world needs? Time will tell. Metaverse is a virtual world that can coexist next to our real world. Is it the future of social media platforms?
In Metaverse, users can - through the eyes of their avatars - experience a digital reality as interactive and engaging as the physical one using technology capabilities of virtual reality and augmented reality.
Microsoft didn't stay behind. It announced a similar project, Mesh, but focusing specifically on the realm of the virtual office.
2022 will be the year that promises that there will be technology helping us connect in ways we haven't experienced before. Blending our virtual and real world experiences will be something new and exciting to witness.
No-code and low-code revolution
Every few years, we hear that software engineers soon won't be needed anymore and businesses will create apps on their own using specialised frameworks that don't require users' technical knowledge. This isn't a threat for complex IT systems, maybe it will never be, but still, the pattern is visible for selected scenarios. Do you need to hire a developer to create a simple website? Not really - see Carrd, Wix or Webflow. What about mobile apps? In some cases - neither - Wix has launched a no-code app builder.
Hiring skilled software engineers gets quite difficult. Leveraging no-code and low-code, even for simple tasks, allows to reduce Time To Market and costs. Nowadays, people are able to create $1M businesses using no-code tools only, which is quite impressive.
I've done over $1M in income in 2 years as an entrepreneur.

And I didn't write a single line of code.

My 12 "must use" no-code tools:

[🧵 thread}

— Justin Welsh (@JustinSaaS) November 9, 2021
However, this won't work for all scenarios. Businesses still require custom solutions, but if something can be handled using an out-of-the-box tool, why not?
What is your take on IT trends 2022?
We're curious what your engineering eye has spotted and what in your opinion we will see more of in the upcoming year. Share your trends in the comments!
Do you want to be up to date with technology trends? Join and get unlimited access to Data Times - a monthly dose of tech news curated by SoftwareMill's engineers.