How to be a digital nomad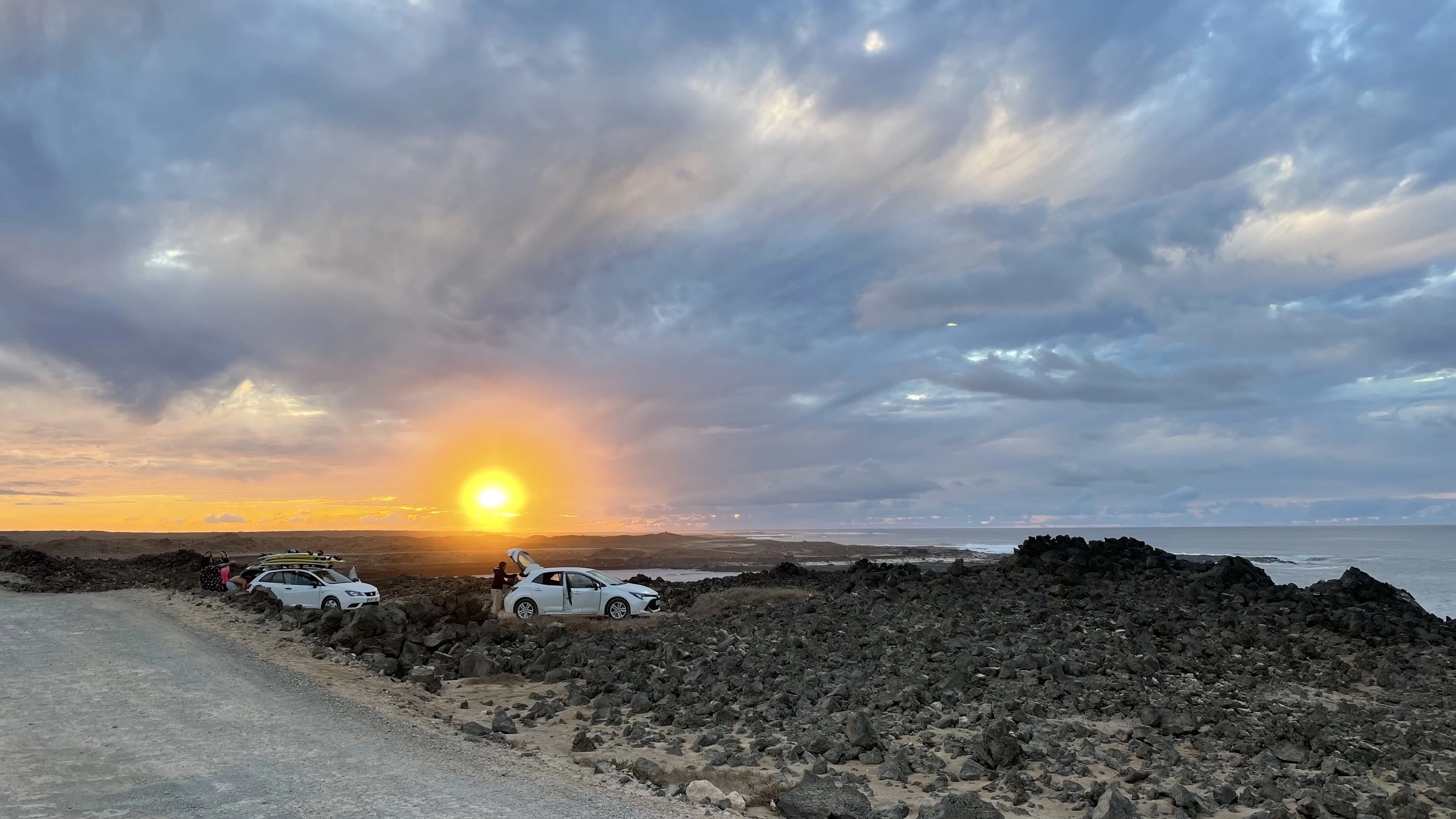 Interview with a software engineer living on the beach
You've been living a digital nomad lifestyle for a while, being a frontend developer at SoftwareMill by day and an avid windsurfer by night. Or by evening to be precise ;) You're literally chasing the wind and travelling around the world to surf at the best surfing spots. You've already lived in Fuerteventura, Vietnam, Bonaire in the Dutch Caribbean, Italy, and Brazil. We want to hear your story and your take on digital nomadism.
On becoming a digital nomad
Tell us - how did it all start? How did you decide to start your digital nomad journey?
It all started because of windsurfing. I started it together with my dad when I was a kid. The very nature of the sport involves quite a lot of travelling, so we've always been travelling a lot every summer, sometimes I used to skip school for a few days to catch a good forecast on the Baltic Sea and I would go there with my father and some friends. Those have always been the best moments for me, I used to live from one windsurf trip to another. This had always motivated me to study and work hard so that when the time would come, I could escape for a few days.
Around high school, I started to think how I could keep doing this after university. I can tell you that it wasn't easy to stick to that dream. Schools and universities in Poland are rather trying to set you on a "regular" path. I've heard countless times that remote work is close to impossible: "I don't know anybody working like that", "Maybe you should focus more on having a real career", "You might be able to work remotely but only once you have many years of experience". However, my parents and my friends have always been very supportive. As soon as I turned 18, I started working as a windsurfing instructor and I travelled quite a lot throughout university and I think that it was when I decided that there was no way I would stay and live in the city.
During my last year at the university, I did an internship in a big corporation and started working there shortly after. It took 4 months in my first in life commercial project to realise I cannot stay in the office and, being a complete newbie, I decided to try and negotiate a remote work possibility. To my great surprise, the company agreed, even though they were quite reluctant at first. That was the pivotal moment in my life, I knew I was not going to let that go anymore and that I was going to start chasing my dreams with full commitment and it was then that I moved to Fuerteventura.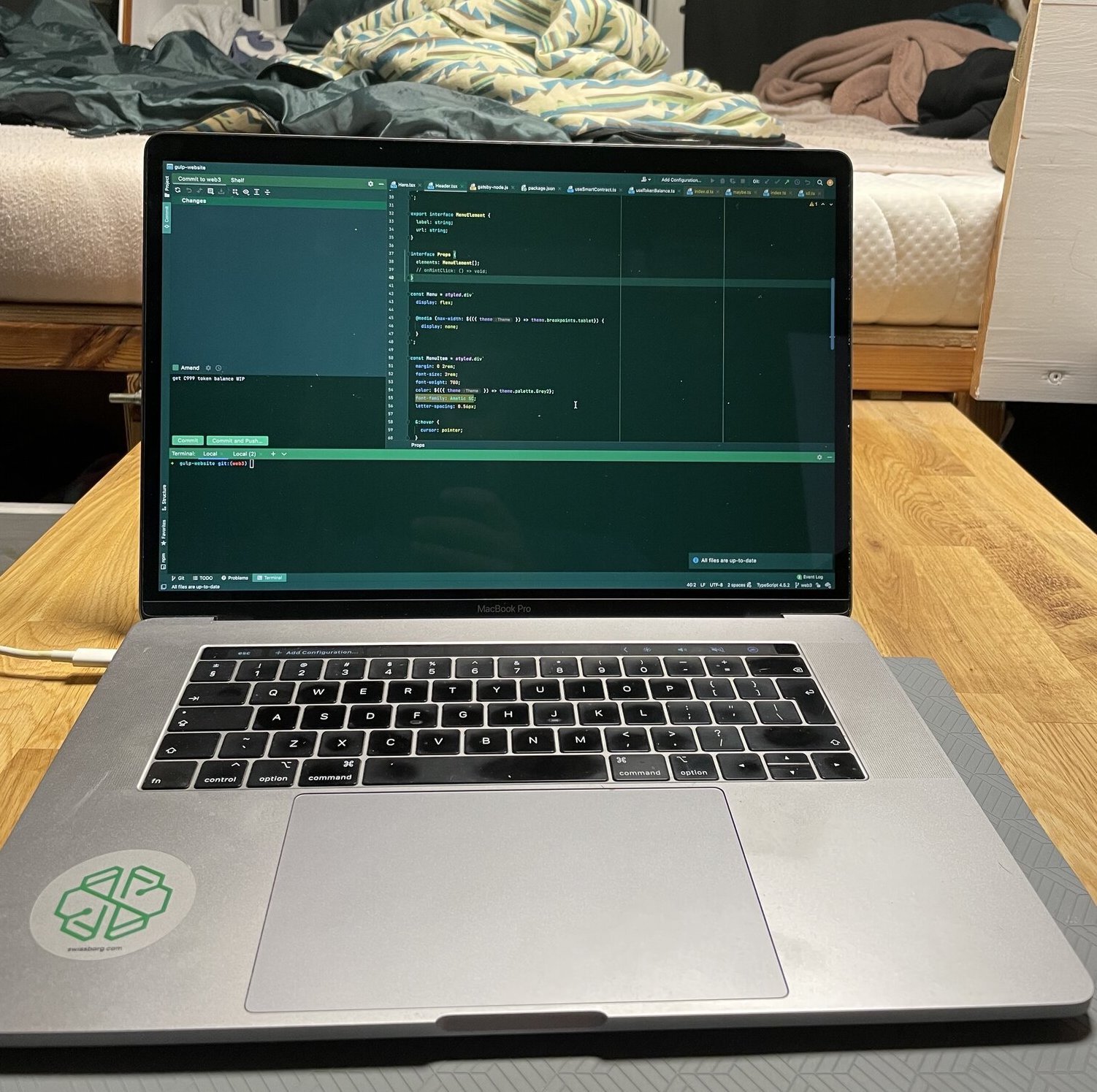 On combining remote work with windsurfing
How do you manage to combine remote work with your passion - windsurfing? What are the challenges and how do you cope with them?
I don't really think about combining the two as a challenge. It would be a challenge to live a life where I couldn't do both on a daily basis. For me, programming and windsurfing perfectly complement each other and I love both. Coding requires you to be really focused, if you have an interesting task, the time flies. It might be stressful at times, but generally, I find it really peaceful because 90% of the time everything depends on your concentration and commitment only. Maybe I've been very lucky with projects and people I've worked with so far (read more about our values in the article Why we hire beyond the skills), but that's how I see it. On the other hand, windsurfing might be the most rewarding thing you can possibly do, but also the most frustrating, especially when the conditions are not great and you really struggle to land your tricks.
One thing that both have in common is that you are never good enough, you constantly learn new things and you constantly chase some holy grail that you think is going to make you feel fulfilled, but once you get it, you just want more and more.
The way my work and passion complement each other is that often after an intense weekend on the water, I'm longing for a calm day by the computer - I wake up, I drink my coffee, and I say to myself - "How good that I don't have to go to the beach today" ;) On the other hand, after a hard day of coding, after being highly focused for hours, I really feel like clearing my mind, just going to the ocean and disconnecting.
The only challenge I can think of stems from the nature of the sport - it depends on the weather and ocean's tides. It happens that the perfect time to go to the beach is in the middle of the day. In that case, I always try to wake up early, do as much as I can in the morning and unless I have some important meetings, I go to the beach and I come back to work in the evening.
On taking care of the setup
Being a software engineer, do you need to have some specific setup for your work? How does it work? What are the needs and how do you manage to meet them?
I think the most important thing is to develop the ability to focus anywhere and in any conditions, luckily, I have never really had problems with that.
Basically, the only necessary setup for me is decent wifi, a table and a chair. Of course, everything depends on how long you want to work in particular conditions, if it's only for a few days, it's possible pretty much anywhere.
If I stay somewhere for a longer period of time, a comfortable chair and quiet environment are the first things I look for. However, if you have to work in louder surroundings, good noise-cancelling headphones do the job. I also always carry my iPad with me as it can serve as an external screen for a Mac. Another device that I always take with me on trips is a decent wifi extender, it can really come in handy sometimes. Speaking of the internet, I usually ask the apartment owners to send me a screenshot from Speedtest.net to verify the quality of the wifi. You would be surprised how fast the internet can be in some places that you would never expect to have a decent connection. One example is Vietnam. I lived and worked there on a camping at the very beach in the middle of nowhere with blazing fast 5G connection. Recently I spent one month in Jericoacoara in Brazil, it's a village located on the beach, you need to drive a 4x4 over the sand dunes to get there and I found there a Pousada (hostel) with 100Mb Up&Down optic fibre wifi.
On the favourite places
You've visited a bunch of beautiful places. Which are your top of the top and why?
My top place is definitely where I live and spend most of the year - Fuerteventura. It's great because of various reasons. Firstly, it provides amazing conditions for windsurfing from the beginning of April until the end of September and great waves for regular surfing throughout the rest of the year. The weather is perfect all year long, there is a growing community of young people working remotely and sharing their passion for watersports after work. A big advantage is also the fact that it's still the European Union, even though geographically, the Canaries belong to Africa. I think the Canary Islands are hands down the best place to live in Spain and Europe in general.
I have also helplessly fallen in love with the Caribbean. I visited the island of Margarita in Venezuela and a Dutch Caribbean island - Bonaire. The people there, food, atmosphere make it such an exceptional place, once you're there, you can really get lost in time, it's not easy to come back. I would especially want to spend more time in Venezuela, there are some breathtaking places to visit there. Who knows, maybe I will end up somewhere in the Caribbean one day for good, so far, though, I want to stay closer to my family and friends in Europe. Last but not least, the most recent place I've visited - Jericoacoara - is absolutely amazing. Great wind, great waves, beautiful nature, welcoming people. The village is situated on the beach, there are no paved roads, donkeys roam the streets ;) At night, it turns into a great party destination as well.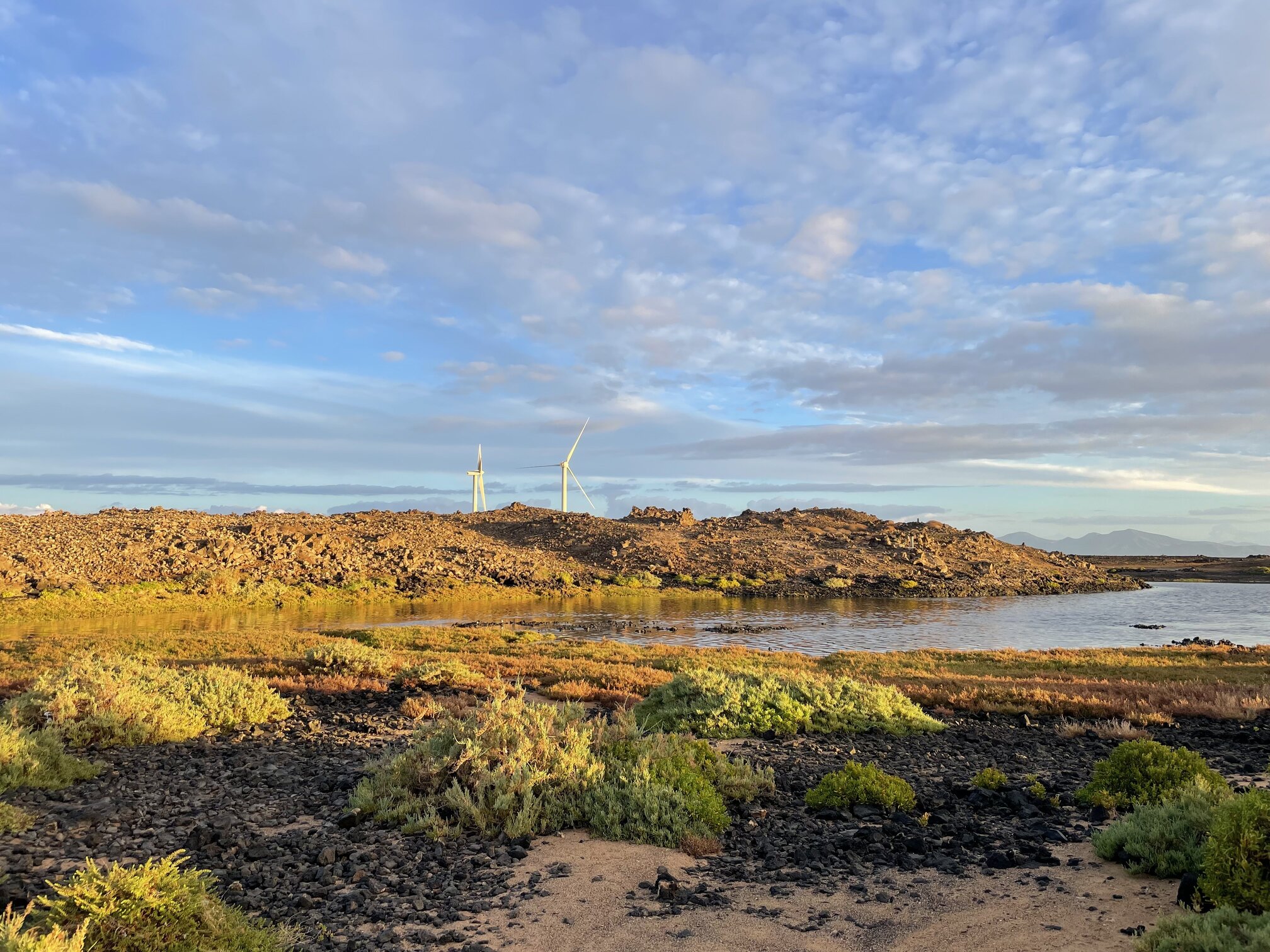 On living on the four wheels
You've renovated an old Fiat Ducato and turned it into a camper. Is it possible to live and work in such a car? When is it a good idea to start living on four wheels?
It's definitely possible. Basically the only thing you need is a good mobile internet plan and, of course, it's up to you how you design your van and whether you build a comfortable workplace there. The only problem might be the temperature if you don't have air conditioning. Luckily, the Canaries are not too hot and there is always some wind so I've never really had problems with that. I've built my van with short weekend trips in mind, not really long-term living and working, but I've seen many DIY campers that could easily serve as an office on a daily basis. I think if you're an engineer, I think you would enjoy the process of designing and building a van. If you have time and money for such projects and such adventure sounds compelling to you, buy a van and start working on it, I can promise you won't regret it. I have even met whole families working and travelling like that.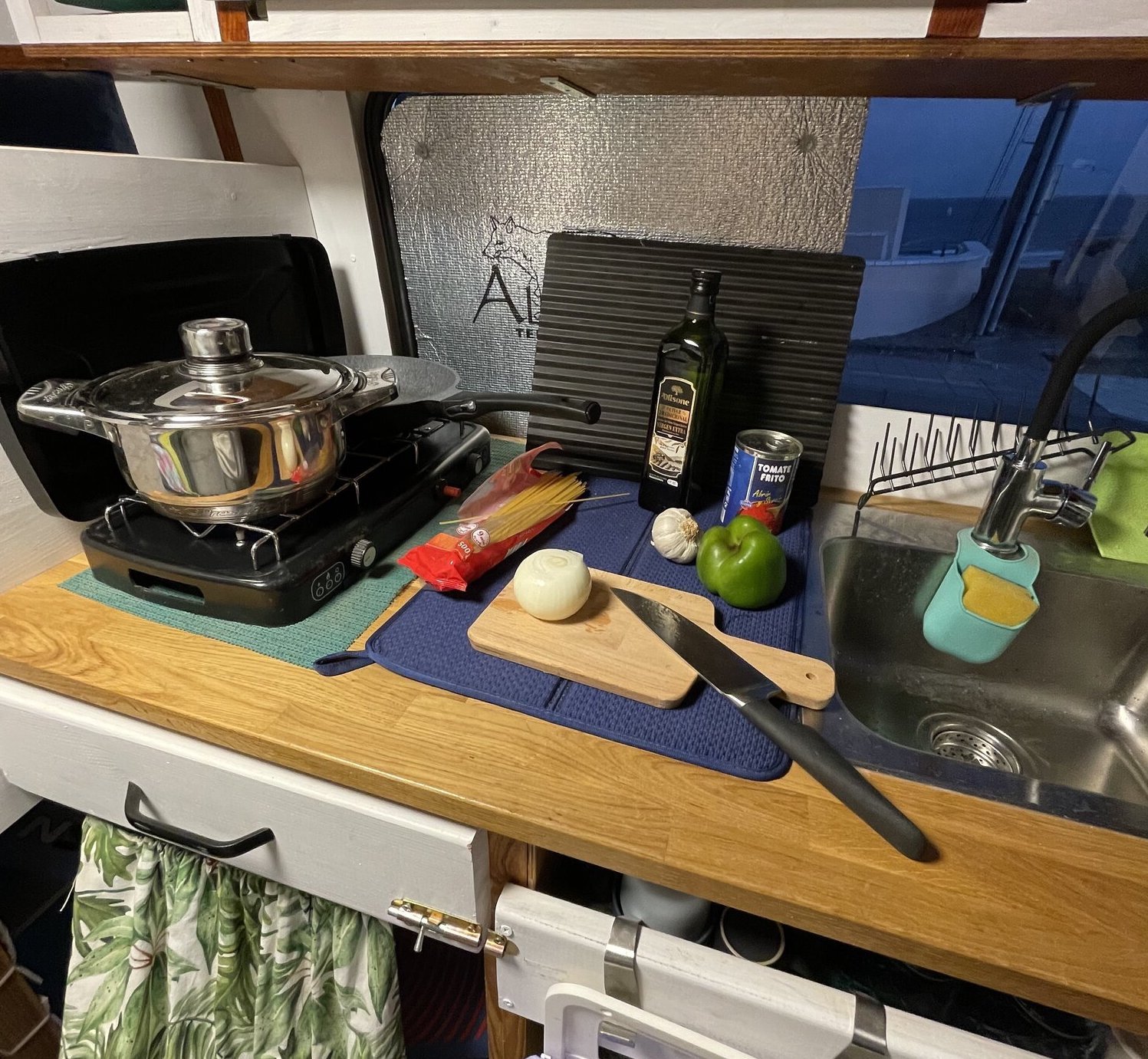 On meeting other digital nomads
You meet lots of other digital nomads on your way. Who was the most interesting or inspiring person that you've met so far?
That's actually one of the best parts of this lifestyle, you meet like-minded people all the time.
The cool thing is that people you meet are usually very positive, they do what they love and pursue their dreams. Two months ago in Brazil, I met a family from Tarifa in Spain that really impressed me and became kind of a role model for me. They both work remotely, spend most of the time in Tarifa but they travel a lot as well. They take their kids everywhere with them, their 9 -year-old son rides like a small demon on a windsurf board, surfboard, anything basically. I think growing up on the beach, doing sports with other kids all the time is one of the best childhoods you can have. The kids go to school in Spain, but the parents organised a possibility to homeschool them while they are away. They were supposed to stay 2.5 months in Brazil as far as I remember.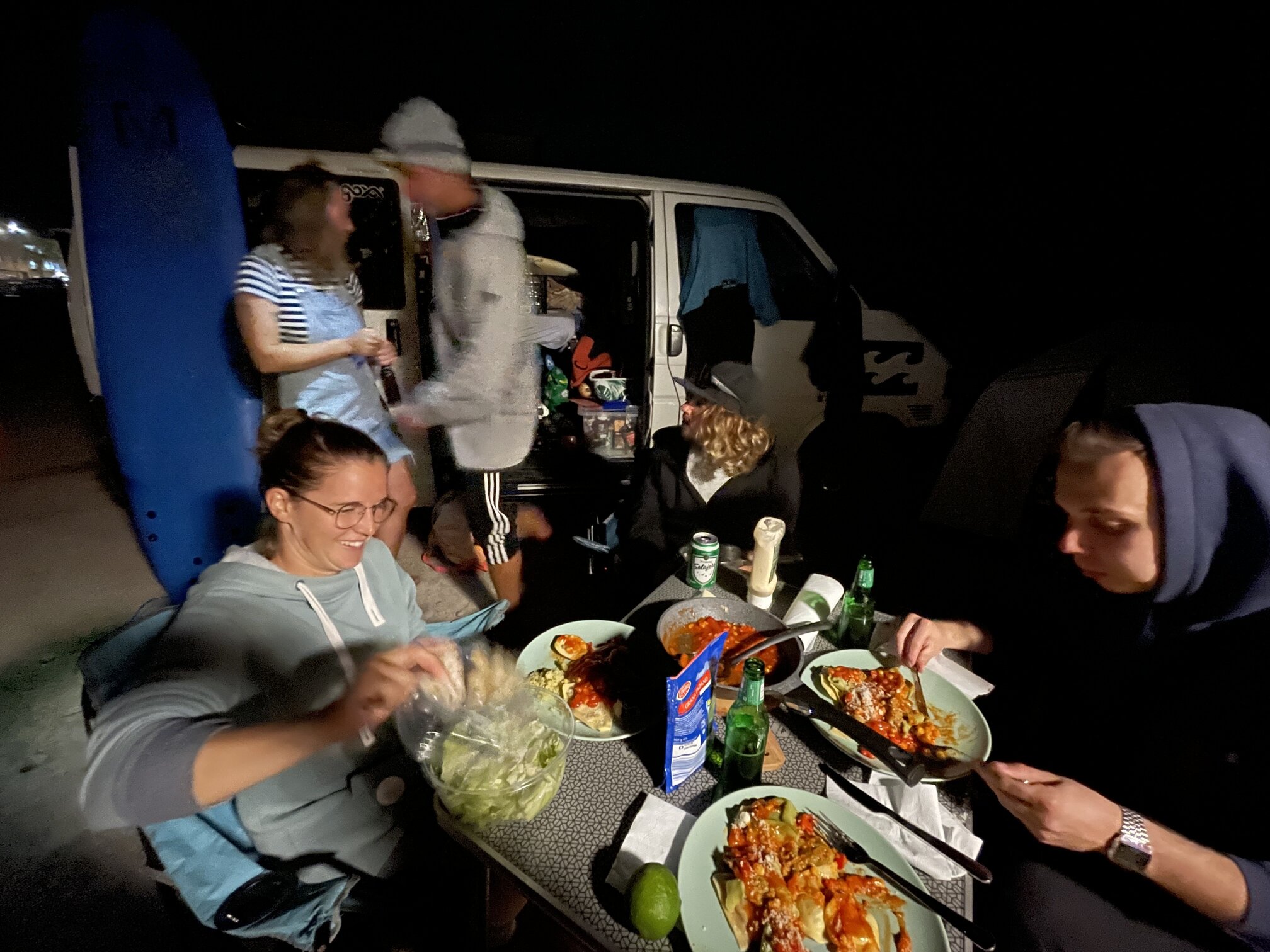 Is there a time when you dislike being a nomad? When do you think that it would be better to live in only one place?
It does happen from time to time, however, less and less. In the beginning, I didn't have many friends living a similar lifestyle and it used to get a bit boring and lonely after the wind season ended on Fuerteventura. However, recently it has changed a lot and more and more people are moving there for good and they work remotely, so it's getting easier and easier to find a company for travelling. Of course, often when I'm back in Poland and I visit all my old friends or I spend time with colleagues from SoftwareMill, I wish I had more time with them and that I could see them more often. However, although I always really appreciate the time back home, if I stayed longer, I would get bored in the end and wouldn't enjoy it that much.
Are there any 'digital nomad skills' that make this lifestyle easier? Is it something you can learn?
I think that if you speak some more languages than only English, it's definitely a big advantage that can save you a lot of stress in different situations.
Even some basic knowledge can help if you find yourself in a less touristic place. Besides that, I don't think there are any other particular skills. The only other thing that comes to my mind is to keep calm in some unexpected situations that can always happen when you are away from home. If you don't speak the local language, even simple problems might sometimes give you more anxiety than normally and you might really feel on your own. You just have to remember that there are always some good people around willing to help. In terms of work, it's just about decent time management and being able to stay concentrated and motivated no matter where you are.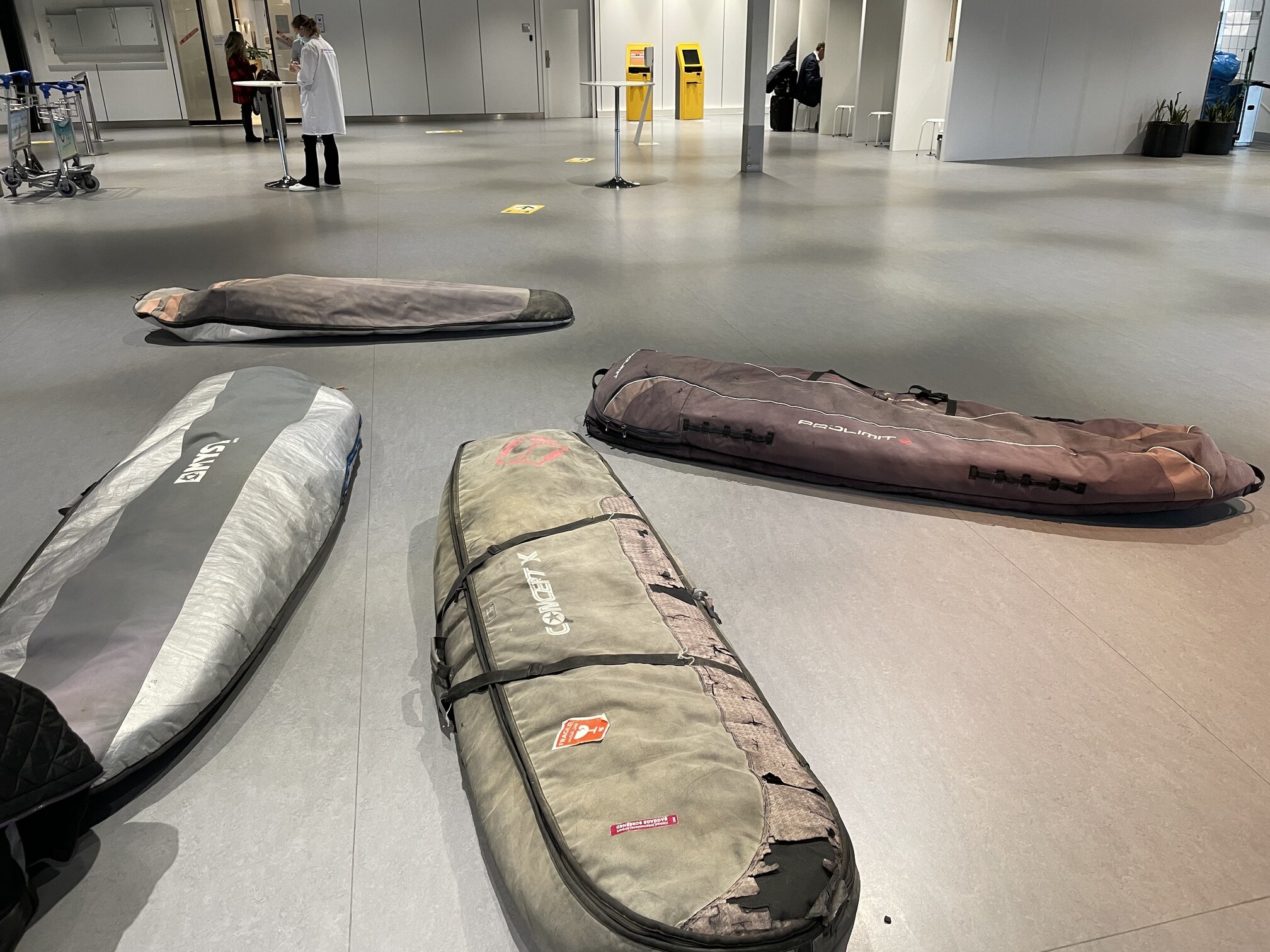 Life has changed in almost every part of the world during the COVID-19 pandemic. What's the impact on the digital nomad lifestyle?
Surprisingly, it seems like it has increased interest in such a lifestyle. I think it's because of two reasons, the obvious one is that the pandemic forced many companies to allow their employees to work remotely. Many people might have dreamed about travelling and working from wherever they want, but their companies would have never allowed it in normal circumstances.
I think COVID was a spark that the remote work revolution needed and it's not only about the digital nomad lifestyle, also about simply working from home instead of spending hours everyday in the big cities' traffic. Once you start working from home, you start perceiving the office as something redundant. It actually seems kind of ridiculous, why would companies spend all that money for the office buildings, why would all those people spend hours in traffic jams, it doesn't make sense to me anymore ;) Of course, there is a social aspect - it's great to spend time with your colleagues and sometimes I miss that part, but at SoftwareMill, we meet on a regular basis and we really spend some quality time together, not only coffee breaks. Strangely enough, I feel much more connected with people at SoftwareMill and I made more friends than when I used to work in an office. Read more about our remote culture in the article: Why we play online games in our remote team and why you should too.
I think the second less obvious impact of the pandemic is that it reminded us how precious our life is, how important it is to spend your time well and do what you love, because the whole world might change in a split second. This really motivates you to change something in life and make it your own. I see many more people around me travelling more, especially those who do sports that can't be done in the city but also many people who simply want to escape the cold during the wintertime.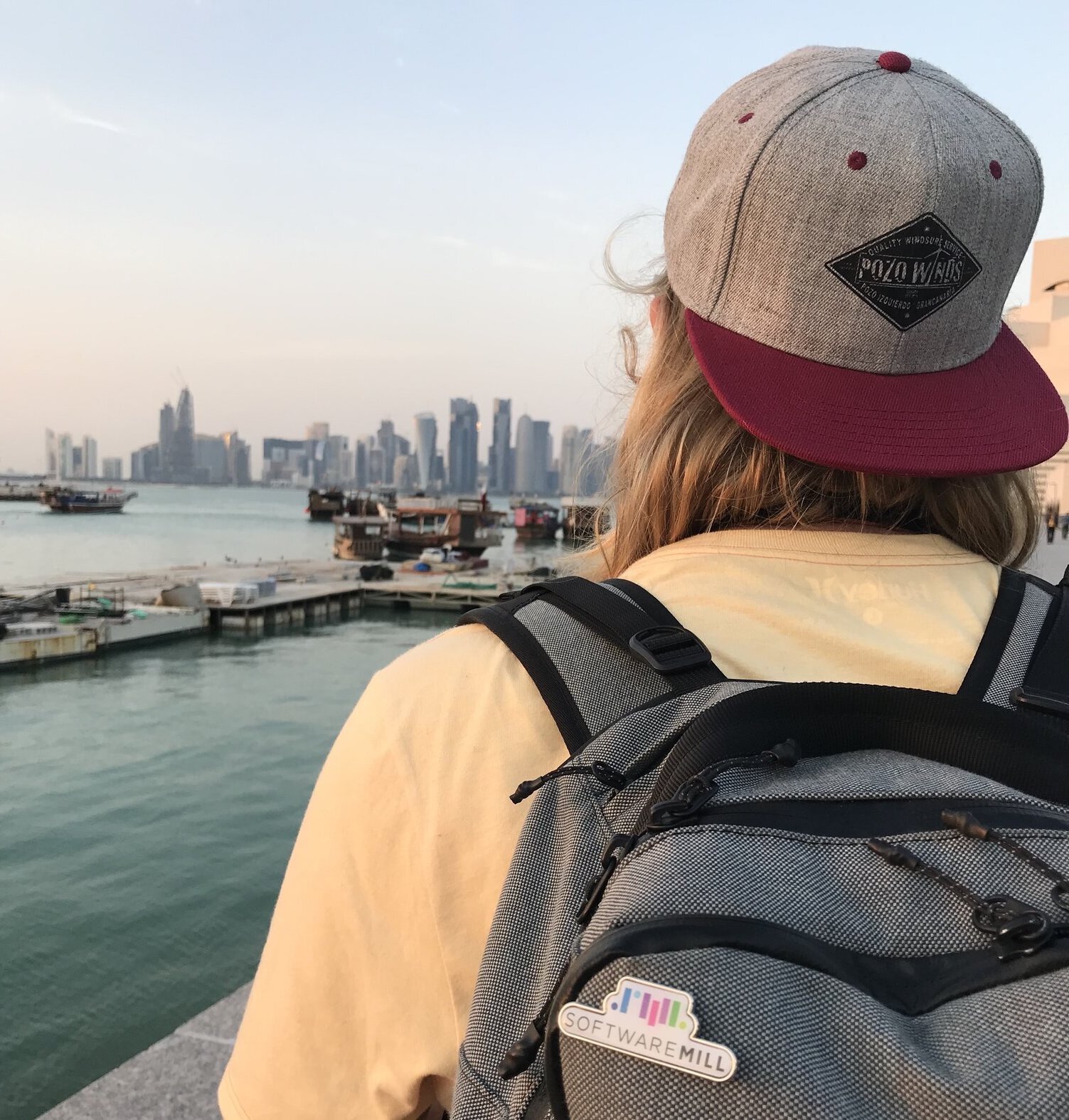 What are your plans for the next places to live in? How do you decide where to go?
This winter, I would like to go back to the Caribbean. I think this time, it will be the island of Aruba. I'm planning to go there with my friend who also works remotely as a data scientist. There are still quite a lot of places on my list, though. I would like to go back to Morocco sometime soon, maybe spend next winter in Cape Town and one day visit the ultimate windsurfing destination - Hawaii. It's not difficult to decide where to go because there are only a handful of places in the world with reliable windsurfing conditions. Usually the summer is best in the Canaries, autumn until early winter - Brazil, and then winter and spring - the Caribbean and Cape Town. It's so few places that basically anywhere you go, you always meet some friends because everybody just follows the same path of the wind.
Tips for becoming location independent
What are your tips for people who would like to become location independent and live a digital nomad life?
Be passionate about your work. If you get the feeling of fulfilment from simply being in the office and you don't enjoy what you do, I don't think changing to remote work will solve your problems. It might even get more difficult to motivate yourself once you're on your own. Having said that, you'll never know until you try, don't think too much and just follow your gut. It's always possible to come back to your home town, come back to the office. Normally, if you feel like that's what you want to do, it's a low risk high profit kind of situation. Of course, provided you have enough savings to survive while searching for remote work or you already have such an opportunity and you're just not sure whether to take it.
Want to live the dream while working with us?
We're always looking for curious programmers to become a part of our team, join us! If you're passionate about what you're doing, it's a sign!